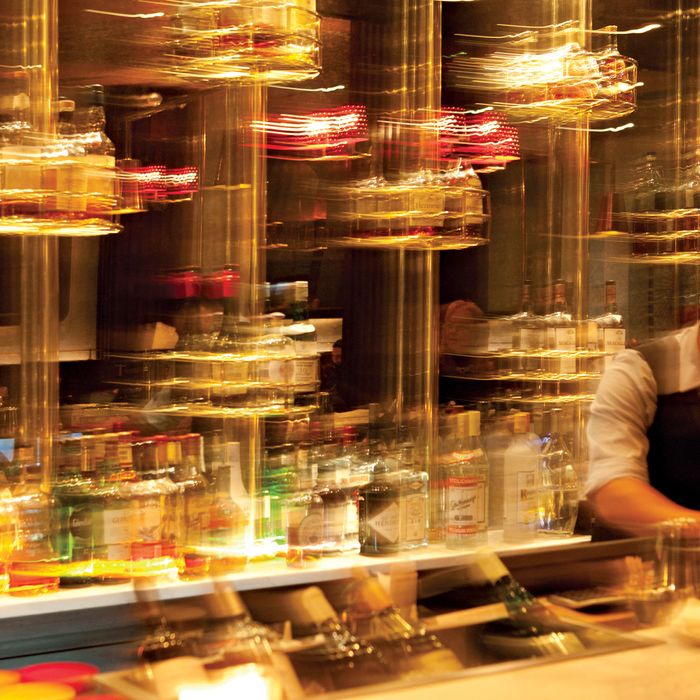 La Promenade des Anglais.
Photo: Danny Kim
In this week's New York, Adam Platt turns his palate to La Promenade des Anglais and Mas (la grillade), where "high-end chefs go down-market in an attempt to suit the times." At the former, chef Alain "Allegretti finally seems to have hit on a style … for this new dining age." At his "cheerfully unfussy restaurant," the "best dishes tend to be rooted in his Mediterranean background," including zucchini-flower beignets, Provençal fish soup, and octopus a la plancha; the restaurant receives two stars. At the latter restaurant, "a kind of casual bookend" to Mas (farmhouse), nearly everything is cooked over an open flame. "Unfortunately most of the dishes I sampled were devoid of that just-off-the-fire crackle and gusto that characterize the best kind of open-flame cooking," writes our critic, awarding one star.
Meanwhile, Rob Patronite and Robin Raisfeld address a burgeoning culinary phenomenon: athlete chefs. Despite shows like Fat Chef, they write, "you might even say that there's an inverse relationship between Michelin stars and body-mass index." It makes sense, since chefs need to be on TV these days and tend to be adrenaline junkies anyway; behold the fittest toques in town.
The Robs also address Super Bowl sandwich options, endorsing the three-foot Asian sub from Num Pang, whose owners are huge football fans. The monster comes on Parisi bread and serves ten to twelve.
And if you happen to travel to Mexico City anytime soon, here are the Urbanist's picks on where to splurge, get a taco, or dive into some ceviche.