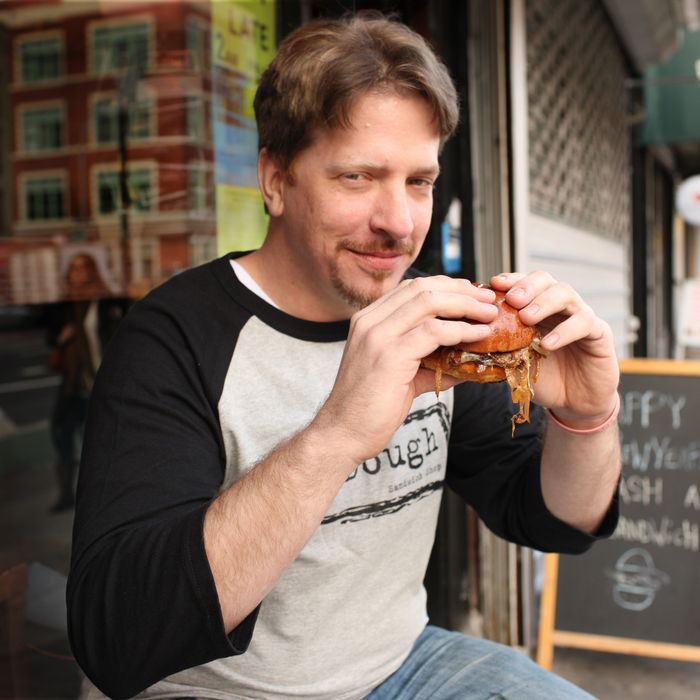 Dobias, eating a sandwich from JoeDough
Photo: Melissa Hom
It practically goes without saying that JoeDoe chef and co-owner Joe Dobias has had a somewhat rocky relationship with Grub Street over the years, but he's quick to clarify that it's been "both good and bad — hopefully just good from now on." (We're all for letting bygones be bygones.) Now that Dobias and his partner — in business and life — Jill Schulster have opened their second spot, the JoeDough sandwich shop, the chef says the couple is "up to our eyeballs in work, which is good." Fortunately, we caught him during a relatively quiet week after the craziness of the year-end holidays so we could hear about late-night bibimbap feasts, the best underrated burger in the city, and Dobias's superlative biscuit-making skills. Read all about it in this week's New York Diet.
Friday, January 6
So, Friday I was up early as usual. We — whenever I say "we" I mean me and Jill — went to JoeDough, which we just call "the shop." I was helping put together a six-foot sub for someone.
I'm not a real coffee snob. I'm not really into the Stumptowns and stuff like that. I wouldn't even know where to begin. My coffee experience has been Dunkin' Donuts growing up on Long Island, and then Jill got me hooked on iced venti lattes at Starbucks. I think there's crack or something in them; I can't get off them. I need one every day.
During the day, we brought in some Porchetta. Sara Jenkins and I have sort of connected a little bit over the shop, and her crew at Porsena has been really supportive, ordering sandwiches to the restaurant all the time, so we kind of return the favor. Plus, they're damn good sandwiches.
Friday night, service as usual at JoeDoe, then slipped out around 11 and went to the shop because we were open late for the first time, until 2 a.m. So Jill and I had dinner over there. Had a Cubano, a side of potato salad, and we do the Mexican Coke. We do those for three bucks, not five. That was pretty much it on Friday.
Saturday, January 7
Saturday, you know, basically for three-plus years now it's been double shifts on Saturday and Sunday. So it starts with brunch service and the good ol' venti latte. Around two o'clock I took a knee behind the counter — if you see my head go below the counter it's usually because I'm eating something. So I had a little JoeDough Egg McMuffin kind of thing, egg and cheese, if you will. After brunch I had two beers and then I worked dinner.
We do a great staff meal on Saturday and Sunday in particular because those are the only days we're open for two services, but I don't really indulge in the Saturday one because Saturday night tends to be very, very busy and the kitchen's so small that I feel like if I were just a little bit fatter …. And I get lethargic. I'll taste stuff throughout the day, but I've never been a real big eater of my own food. It's a terrible -ism of a lot of chefs, I think.
After dinner service, Jill and I went to Daddy-O, which has pretty much been our go-to for the six years we've been together. I had a couple beers, a turbo dog, which I usually go for, and we split a burger, chicken sandwich, and tater tots. The burger there is underrated. It's one of the best ones in the city, and it's not like a blend or anything like that. It's just a straight-up good burger.
Sunday, January 8
I don't eat breakfast on Saturday and Sunday. By Sunday I feel like I'm going to die basically because I'm so, so tired. I did eat half a biscuit in the morning because I make, you know, what I could consider if not the best biscuit in New York City, certainly it's in the top three. I'm very understated, you can see. And coffee's a given.
The best part of the weekend, by far, is Sunday brunch. We do a really big family meal and everybody who's coming in that night to work, and the people who were on for brunch — basically our whole staff of like eight people — is here.
Ever since we opened JoeDough, Jill's family has been integral, especially her mom and dad. They come in every Sunday because we used to all eat together, and then Jill and I opened another restaurant so we had to stop eating together, so they started coming into the sandwich shop. Sunday night they came in like they usually do and we spread out this table that we call the mom table, because moms don't like to sit on bar stools, you know? Dad of course had two sandwiches and Mom had one. I sad with them and I had the almighty brisket, and an espresso soda, which is basically my favorite soda. That's the only reason I put it on the menu. Then we closed down around 10 that night and Jill and I just went home.
Monday, January 9
We're closed on Mondays. That's just the way we've been doing it for a while — need that day off. So it's rare if I ever get up before noon on my day off. Jill and I get up and just linger until about two, just drinking what a doctor would probably consider too much coffee.
Later we went to Bareburger, which is like a little chainlet that's starting to spread. It's actually pretty good. So we had two beers and a burger at Bareburger and then went home and crashed out a little bit, fell asleep again.
That night we went to dinner at a place called the Toucan and the Lion. We went because this guy, Justin Fertitta, is the chef and he's been coming to JoeDough since they were opening their place, so we went in there and checked it out. We had espresso ribs, and fried pickles, which I think he was doing with Brooklyn pickles. And a goat potpie, which was not really a potpie, but it was an okay idea. And the dish of the evening, I would say, was a farro risotto he did with pumpkin and pumpkin seeds.
I don't consider going out to eat to be my job or anything, it's just what I love to do. It's my fancy sneakers, my nice shirt. I don't buy that stuff, I do the dinner out. A lot of times, Jill and I go every tenth dinner or special occasion and just act, like, pretend you're rich for the night and really treat yourself nice. At the end of the day, I have a lot of respect for what people do in the business, regardless of what gets out there from people's interpretations of how I react to my own business.
Tuesday, January 10
Tuesdays and Thursdays are days where I try to consider myself healthy, so I train with a trainer and ride my bike. I ate one of those nasty packaged Cliff bars, but those are the only energy bars that taste good.
When I'm done, I usually grab just a standard Boar's Head turkey sandwich from the bodega, and a Gatorade, and ride to work after that.
That night, Doug and Brian from Big Gay Ice Cream came in. They've been coming into the shop, so we sort of introduced ourselves as neighbors. They're really nice guys and they brought me this bomb of a shake, it's a chocolate, peanut butter, and jelly shake. And it was like … it was crazy. I had to go back and get one later in the night. It was amazing. But then I didn't eat anything all night until my manager from the shop and my sous-chef at JoeDoe and I went to Village Yokocho around one o'clock.
It's one of those second-floor restaurants near NYU where you walk in and it's packed every night, and you're like, Where do all these people come from? And the food just flies out, and there seem to be like seven different kitchens, too. And you drink a lot of beer. We had pork kimchee, and soy noodle soup, soft-shell crabs with ponzu. It's Korean and Japanese, so they had bibimbap, which we had, and sake. We were drinking Asahi beer. We packed it in about 2:45, so it was a little late.
Wednesday, January 11
Wednesday I was just doing some good old office work. That's the most fun I have all week, I tell ya. So it was Starbucks as usual, and lunch was at the shop because I had to go over there and, you know, meet your photographer. My favorite sandwich on the menu is the Cubano. I think you could open a shop that was just Cuban sandwiches.
After service it was just Joe's Pizza. Jill and I do that once a week. And a tallboy of Sam Adams. I usually have at least one of those a night.