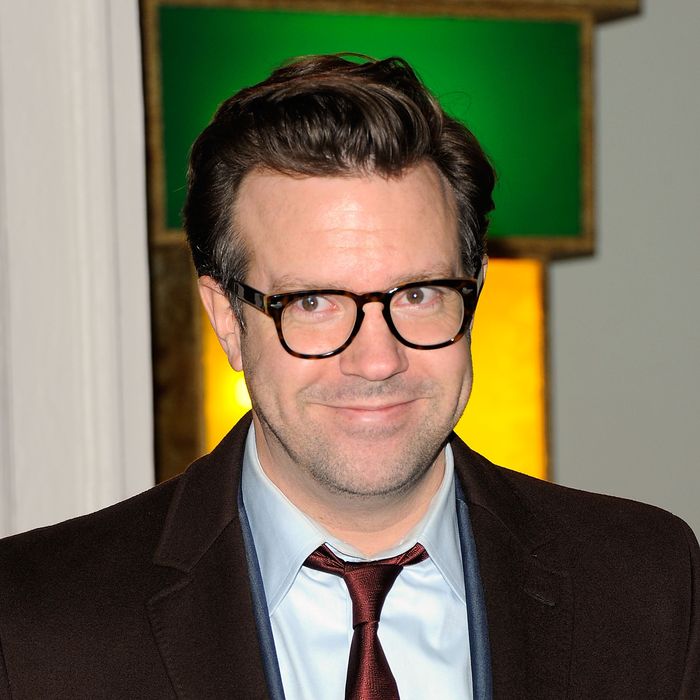 Funny boy Sudeikis pounds burgers at Bill's.
Photo: Andrew H. Walker/Getty Images
Maybe folks are feeling some post–Golden Globes hangovers, perhaps some are afraid of this weekend's impending snow storm (a whopping 3 to 6 inches is expected!), or maybe everyone just assumed they couldn't top the coolness of last week's Celebrity Settings — remember, Vince Young bought drinks for Drake — but regardless, not too many celebrities got caught dining in New York this past week. Then again, Jason Sudeikis did buy some burgers for his friends, Mitt Romney hosted a fund-raiser with some pretty gnarly guacamole, and Warren Buffett chilled with Jay-Z — so maybe this week wasn't too bad. All this, and more celebrity sightings, straight ahead.
The 40/40 Club: Warren Buffett paid his dues to the Throne on Wednesday when he showed up, alongside two female companions, at Jay-Z's reopening of his Flatiron sports club on Wednesday. Rumor has it the super-rich dude from the Midwest was even sporting a tie that was a gift from Hova himself. We guess Buffett's got his swagga back. [Page Six/NYP]
Asellina: Paula Deen enjoyed braised lamb chop and tiramisu for dessert, and claimed it was the best she had ever tasted — perhaps because it might be the last dessert she has for a while. [Grub Street]
Bill's Bar & Burger: Jason Sudeikis bro-ed out hard earlier this week, as he and four buddies chowed on burgers, fries, wings, and beers … and presumably passed out for like ten hours shortly afterwards. [People]
SamSara Café: Blue Bloods star Amy Carlson met friends for dinner earlier this week and did what we expect CBS actresses to do: smiled a whole bunch. [Downtown Express]
Sheraton New York Hotel & Towers: Mitt Romney hosted a fund-raiser on Tuesday before heading to South Carolina, and at it, he served guacamole and chips. Weird, right? We always thought he seemed like a salsa guy, too. [Page Six/NYP]