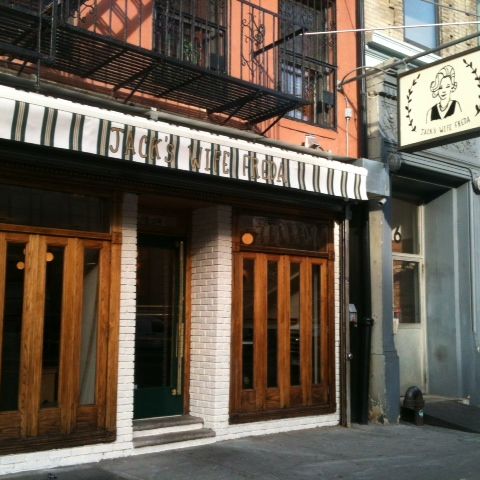 Your future home-away-from-home.
Photo: Maya Jankelowitz
Downtown will get another cozy spot for an any-time-of-day hang when Jack's Wife Freda opens later this week. Husband and wife owners Dean and Maya Jankelowitz both worked for Keith McNally for years (they met at Balthazar, aw), and for their first venture they're aiming for a casual, cozy "New York City café," Dean tells us. Food prices are reasonable, and the menu ranges from eggs with toast soldiers or green shakshuka in the morning, to piri-piri-spiced giblets and Freda's Matzo Ball Soup (Freda and Jack were Dean's grandparents). The small space has banquettes lining the wall and a long communal table in the center, and everything for the build-out was sourced right downtown. There's coffee in the morning, and beer and wine, including Champagne served in coupe glasses. Look for a Friday or Saturday breakfast and lunch debut, with dinner service to follow soon after.
Jack's Wife Freda, 224 Lafayette St., nr. Spring St.