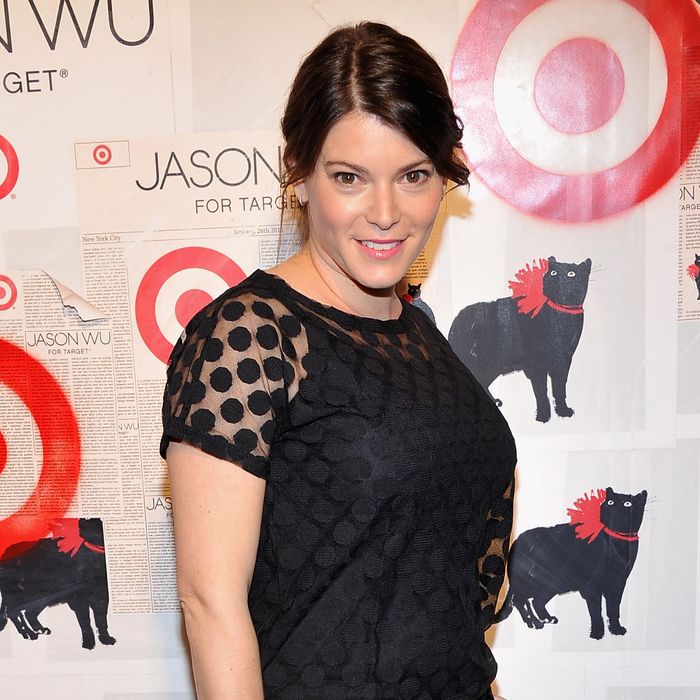 Simmons, at Jason Wu's Target event last night.
Photo: Theo Wargo/Getty Images
Last night, designer Jason Wu launched his collaboration with Target at Skylight Soho. Even though the event was focused on shopping, it wasn't too tough to steer the conversations toward food: Emmy Rossum told us she's a big Top Chef fan, and that she's "big into lobster risotto right now." And Top Chef judge Gail Simmons was, of course, more than happy to chat about her ability to pick great apples at the store, her secret for great Super Bowl wings, and her feelings on that whole Paula Deen debacle you may have heard about.
This is a shopping event. Are you an aggressive shopper? Do you go to sample sales and fight over merchandise?
I would not say I'm an aggressive shopper. I want to be; I aspire to be an aggressive shopper. I am a meek, meek shopper … I'm not good at sifting; I like it laid out, I like to know exactly what I'm looking at. You know, I lose patience really easily; I'd rather shop in the grocery store than in the department store. I can pick an apple like nobody's business.
 
So you won't be grabbing that last dress out of somebody's hands here tonight?
No, but I will be shopping tonight, because I do well with Target collaborations, and I always do well with Jason Wu.
 
Do you have Super Bowl plans? Are you making anything to eat while watching the game?
Yeah, I have plans to watch the Super Bowl. I'm from Canada, so I grew up not knowing a lot about football, but I've gotten into the swing of things, especially this year, being a New Yorker. And I also just became a fanatic of Friday Night Lights — a little late in the game — so I feel like I have finally learned the rules of the game of football, so I'm ready to cheer for the New York Giants.
 
Will you be whipping up anything special?
I will be cooking. I will be cooking for friends next Sunday. I have to decide the menu; there will probably be some super-hot sort of, um, Asian chicken wings, because I love chicken wings and I love spice. And probably, I don't know, some chili. I've got to figure it out.
 
What's your secret for making chili and Asian chicken wings?
Chili, the secret is low and slow; the chicken wings it's using fresh chiles, and butter — a little bit of butter.
 
Speaking of butter, what do you think about Paula Deen being a spokesperson for a diabetes drug?
You know, I have mixed feelings about it. I can't really comment on the spokesperson thing; it feels very transparent, it feels like she's cheating her fans a little bit. But I don't know the ramifications of that situation. But I do hope that she uses her voice and her power to be honest with the people who look up to her and who appreciate her, because she has a really powerful platform, and I think, as a food professional, you need to take responsibility for your health.
 
Emmy Rossum just told me she watches Top Chef.
Whoo hoo! I'll seek her out. You know, I just did Andy Cohen's Watch What Happens Live last night, and she did it, like, two hours before me for a show that'll air Thursday — tonight — so I'll have to chat with her about that.