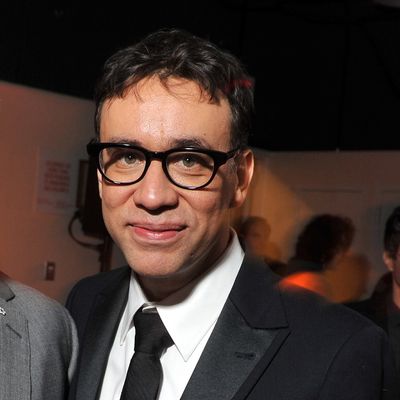 Do not give this man avocados.
Photo: Stephen Lovekin/Getty Images
The other day, we brought you a funny food-allergy clip from the new season of Portlandia, so when Grub Street caught up with Fred Armisen at last night's season-two premiere party for the show, we had to ask him if he had any allergies of his own. Turns out he has plenty!
"Avocado, walnuts, apples, eggplant, and melons," Armisen said, listing off his food don'ts, before admitting he didn't know what the link was between that odd mix of foods. Fortunately, Armisen told us that it's not usually too difficult to avoid those foods: "Like, if I'm getting tacos, I just ask 'Is there avocado? Make sure there's no avocado.' And usually they do that. Usually it's sufficient to just tell them."
Pretty trusting, given that plenty of chefs think food allergies are a joke. Does he carry around an EpiPen or anything just in case? (Nobody would be happy if an errant walnut deprived the world of Garth and Kat!) "No," Armisen says. "If I eat [those foods], they make my mouth itch. I get, like, a rash. I don't die, but I get angry."
Earlier: Canadian Study and Portlandia's New Season Take On Food Allergies
Related: Are Restaurants Responsible for Your Food Allergies?