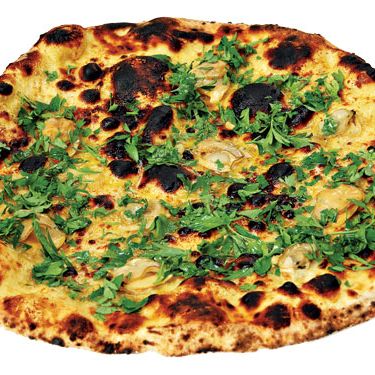 Double the pizza capacity in new Franny's location.
Photo: Hannah Whitaker
The big news out of Brooklyn last week, as reported on Eater via Mouthfuls, is that Franny's, which opened on Flatbush Avenue eight years ago, is moving to a bigger space nearby. Now owner Francine Stephens divulges more details: The move is planned for November and the space, in a former Blockbuster video store at 348 Flatbush, is double the size of the current Franny's — where the no-reservations waits are legendary, and as you've might have heard, worth it. The expansion is intended, says Stephens, "to make the experience better, and to accommodate large parties which we never could before."
The new Franny's will take reservations for six or more, and a private dining room will be available for groups larger than ten. Double the amount of space means double the number of people who want featherlight pizzas, so Stephens and her husband and partner, chef Andrew Feinberg, are building two brick ovens in the new location as opposed to the one currently in heavy use at the original Franny's. Franny's 2.0 will also serve lunch and do takeout. "We have the lease, we're designing the space, construction starts in May," Stephens says. The move, she adds, is scheduled for November 1.
And what about the original Franny's, you ask? After a thorough renovation, it will become a new restaurant called Marco's, named after the couple's son and slated to open in spring of 2013, which also happens to be the publication date of their first cookbook. "Marco's will be an Italian restaurant, all regions, more authentic Italian and more classic than Franny's," says Stephens. It will focus on fresh pasta, versus Franny's emphasis on dried, and the original brick oven will be replaced with a wood-burning grill and spit rotisserie. As for speculation that the new incarnation of the old Franny's space will delve into fine dining, Stephens denies it like someone who's been accused of a crime they didn't commit. "'Fine dining' doesn't resonate with me," she says. "We're Flatbush Avenue, we're Brooklyn." Marco's will serve, as she puts it, "what Andrew wants to be cooking."