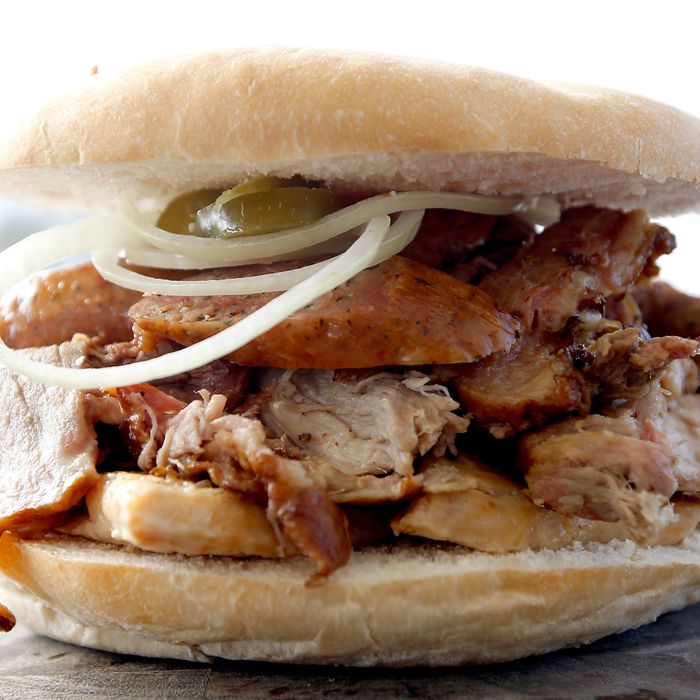 Brisket, not from David's. Bring back the real thing!
Photo: Tom Pennington/Getty Images
Over at Fork in the Road, Robert Sietsema reports that David's Brisket House on Nostrand Avenue in Brooklyn has seemingly closed for good. The critic visited for his "usual bimonthly roast beef brisket sandwich on rye with gravy" last week, only to find the gates down and confirmation that the restaurant has been closed for two months; a phone call to the restaurant yielded only a disconcerting "Happy New Year" message imploring would-be customers to "just keep calling back." The message indicated David's was just waiting on a FD inspection of their new kitchen hood, a claim that matches a Buildings Department filing from late December for the restaurant's ventilation to be replaced. Plus, the Bed-Stuy home of giant beef sandwiches aced its most recent DOHMH inspection, so no worries there.
Sietsema points out that the restaurant was one of the early milestones of the modern Chowhound era, and "one of [Chowhound founder] Jim Leff's original 'finds,' from a sainted list that also included DiFara Pizza." Bed-Stuy barkeep (and famous actor) Anthony Mackie last year called David's entry-level pastrami "the best sandwich meat I've ever had." Brisket, come back!

David's Brisket House Seemingly Bites the Dust; Early Jim Leff Find and Chowhound Fave [Fork in the Road/VV]
Earlier: Anthony Mackie Will Personally Serve You a Drink at His New Bar, Opening This Week