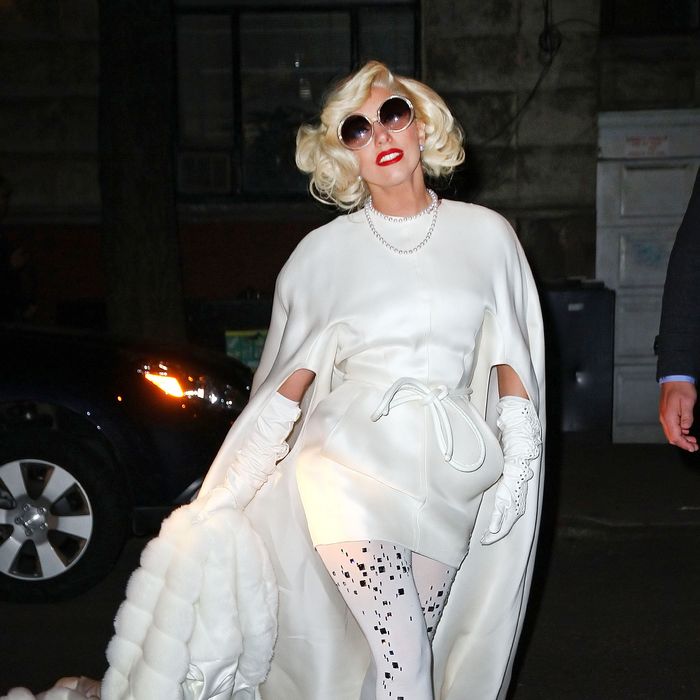 Sort of the opposite of the little black dress.
Photo: GTS / Splash News
This week, we're celebrating 2012 by looking at the celebs who played their own NYE in a low-key fashion, spending the holiday by indulging in a mouthwatering last meal of the year. Following her performance in Times Square, Christina Aguilera and her boyfriend enjoyed truffle macaroni and cheese and cabaret from a corner booth at Bistro Chat Noir. Beyoncé and Jay-Z followed suit; the couple rang in the New Year with an intimate dinner at Buttermilk Channel in Brooklyn, where they dined on fried chicken and oysters. And back across the bridge, Lady Gaga sported jewel-encrusted tights (okay, not that low-key) and a star-studded guest list while hosting an after-party at her father's trattoria, Joanne. All this and more celebrity settings, straight ahead.
Asellina: Lance Bass enjoyed the beef ravioli with truffles when he met a few friends here for dinner on Wednesday. [Grub Street]
Avenue: Robin Thicke spent the night partying with dad Alan Thicke, where they were later joined by Queen Latifah and other friends following the Mission: Impossible - Ghost Protocol premiere. [People]
Michael Phelps spent New Year's Eve at the Chelsea club, where he partied with a group of twelve until 3:30 a.m. [Page Six/NYP]
Beauty & Essex: Real Housewives star Kim Zolciak hosted a dinner party to ring in the New Year. [People]
Bistro Chat Noir: Following her performance in Times Square, Christina Aguilera went uptown to enjoy a meal and a cabaret show at the upscale French bistro. Aguilera, boyfriend Matt Rutler, and her sister sat in a corner booth, where they sipped vodka-and-cranberry cocktails, Champagne, and snacked on truffle macaroni and cheese. [Page Six/NYP]
Buttermilk Channel: Beyoncé and Jay-Z celebrated New Year's Eve with an intimate dinner at the homey Carroll Gardens restaurant. The pair enjoyed comfort food like buttermilk batter-fried chicken, but the expecting star skipped the Champagne. [Food Republic]
Del Frisco's Double Eagle Steak House: Charles Barkley dined at the steakhouse with Mark Lazarus and Greg Hughes on Wednesday night, fueling rumors that he was being courted for the recently rebranded NBC Sports Network. [Page Six/NYP]
Dream Downtown: Drake was swarmed by fans when he arrived at the hotel on New Year's Eve. [NYDN]
Eleni's: Emma Stone and Andrew Garfield were spotted shopping for holiday treats at Chelsea Market days before Christmas. The couple picked up the Chilly Chocolate Chip tin, full of holiday-themed specialty cookies. [People]
Joanne Trattoria: Lady Gaga hosted a post-ball-drop after-party at her father's new restaurant. Jenny McCarthy, Julianne Hough, Ryan Seacrest, Ashley Tisdale, and Tisdale's boyfriend Martin Johnson were also spotted at Gaga's fête. [Page Six/NYP]
Melba's: Dallas Cowboys owner Jerry Jones requested the traditional Southern New Year's Day meal of hoppin' john when he dined with fourteen family members at the swank South Harlem spot. But Jones seemed to be out of luck when the restaurant didn't have the requisite black-eyed peas. [Page Six/NYP]
Mondrian Soho: Britney Spears and fiancé Jason Trawick spent the holidays at the Soho hotel, where they enjoyed a relaxing vacation. [People]
PH-D: Bethenny Frankel enjoyed a New Year's Eve dinner with twelve friends and husband Jason Hoppy at the Dream Downtown's rooftop hot spot. [Page Six/NYP]
Philippe: Zac Efron was seen inhaling chicken satay and lettuce wraps at the uptown restaurant twice in the past two weeks. [Page Six/NYP]
SL: New York Giant Victor Cruz celebrated his team's win on Sunday with fellow Giant Jason Pierre-Paul and a group of their friends and family. New York Jet Darrelle Revis sat at a neighboring table, and the crowd partied late into the night. [Page Six/NYP]
STK: Former Real Housewives of New York star Jill Zarin wore an aquamarine ring that belonged to Elizabeth Taylor when she and her husband toasted to their eleventh wedding anniversary on Wednesday night. The pair enjoyed a cowboy rib eye and porterhouse steak for dinner. [Grub Street]
The Darby: Last Wednesday, Britney Spears and Jason Trawick celebrated a friend's birthday at the West Village supper club. Spears drank water, and the couple sat in a booth as the in-house band serenaded them with a cover of Toxic in the star's honor. [People]
The Glass Houses: Justin Bieber followed his performance in Times Square by throwing a party at the Chelsea Art Tower. Bieber, his family, and Selena Gomez were just a few who attended the Ainsworth-catered event. [Page Six/NYP]
W.i.P.: Beyoncé and Jay-Z enjoyed a night out at the artsy club below Greenhouse last week. The couple hit the dance floor together, where Q-Tip was D.J. for the night. [People]