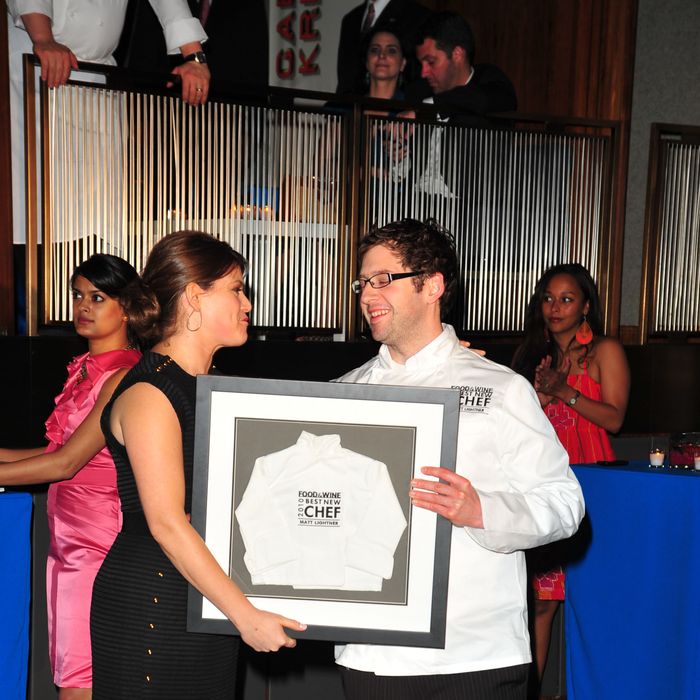 Lightner, sans lichen.
Photo: CHANCE YEH/Patrick McMullan
So far details on Atera, the upcoming project from PDX's Matthew Lightner, have been scarce, but today there's a bit more revealed courtesy a foraging-focused story in the Post. It's no news that Lightner is into the wild stuff — in his previous post at Portland's Castagna, he was known to serve a hyperseasonal menu with dishes like morels and nettles. But now we learn that he'll take it further at Atera, courtesy "a state-of-the art lab/kitchen housed downstairs," not to mention "a 'living' wall" where he'll grow herbs.
When the restaurant opens at 77 Worth Street in (hopefully) March, diners will see ingredients like "wild licorice root, dried lichen, wintergreen, sassafras, monkfish roe and spruce" and later, "wild ginger, birch water and shad roe will appear." So start developing your foresty palate now. Like Compose before it, Atera will have twelve seats and an open kitchen. Two seatings a night will be available for a daily-changing prix fixe priced around $150, much less than Compose charged, which is probably a good thing. [NYP, Related]