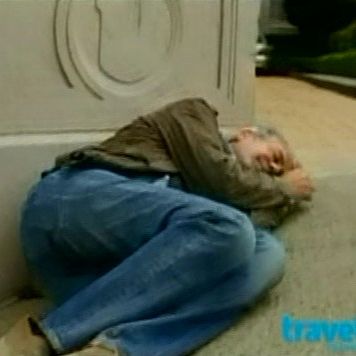 And here he is passed out on a corner on Nob Hill.
Photo: Travel Channel
As promised, Tony Bourdain's 36-hour San Francisco Layover premiered last night, and not surprisingly, it's pretty drunken! He boozes it up at the Tonga Room with Chris Cosentino, and at Mr. Bing's with Danny Bowien and Jeff Hollinger, and elsewhere. He keeps saying in the press that S.F. is "a two-fisted drinking town," and he furthermore rants on the show, "You're going to get a lot of annoying, foodie f**kin bloggers saying … What kind of psychotic f**king freak would not love this place?" Then he passes out on a sidewalk. Here's our 90-second synopsis.
Yes, he loves us. He really, really loves us.

Earlier: Bourdain Tells New Yorkers to Shut Up and Love San Francisco
More Bourdain-Spotting on Polk, in Chinatown, Etc. [Updated]
Bourdain Sighted at Dolores Park Café, Toronado, Rosamunde [Updated]