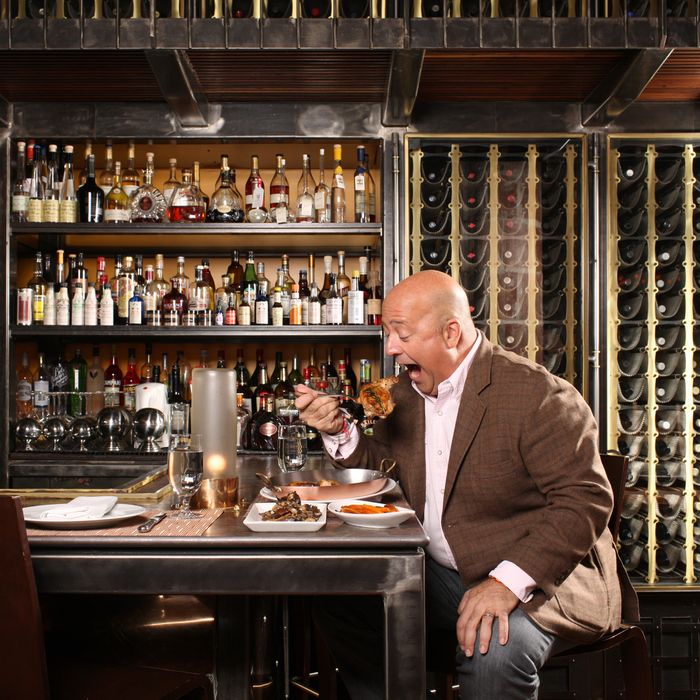 Zimmern digs in at Craft.
Photo: Melissa Hom
As the host of Bizarre Foods on Travel Channel, which kicked off its latest season this week (airing Mondays at 9 p.m. ET/PT) , Andrew Zimmern made his name eating some seriously strange stuff. But he swears that things are different when he's off the clock: "I go home at night, I pick up the dry cleaning, and I make a roast chicken and some crispy potatoes and my wife and son and I sit down to a nice dinner." But that doesn't mean it's impossible for some errant offal to sneak into his day-to-day routine, especially when chefs recognize him in their restaurants. "The disaster for me is when I'm with my wife and son and we stop at a burger bar or something," Zimmern says, "and the chef decides to send out a month-old pig head from the freezer. I just want to eat a burger with my son!" Fortunately for Zimmern, there were no surprise pig heads this week while he was in New York — Zimmern, a native New Yorker who now lives in Minnesota, says he gets back to town about once a month — but there were plenty of other interesting things. For tales of sauteed duck testicles, calf-brain sandwiches, and much, much more, take a gander at this week's New York Diet.
Friday, January 20
I was at home. I had the last of my frozen bagels from Barney Greengrass. I have them send me bagels and smoked fish. There's no place in Minnesota to get good bagels.
Went to a bunch of meetings, skipped lunch, went to the airport and dined on fantastic airport lounge food. I like the Delta lounge in Minneapolis. They've got olives, little squares of cheese, and those hummus packets. Along with celery sticks and a Diet Coke, I make a little meal out of that.
Got on the plane and went to New York. On the way back from the airport, I got a hamburger at J.G. Melon. I grew up on 71st Street, and I love that J.G. Melon hamburger. Usually on the ride in from the airport, I'll call the restaurant and get something to go so I can swoop by in the car.
Dessert that night was Swedish Fish at the hotel. I think the most expensive meal by weight is the stuff that you get out of the minibar at hotels. Pound for pound, it's the spendiest food on the planet.
Saturday, January 21
I was doing the Today show, so I had coffee and a bagel in the green room. For a proper breakfast, I got to eat what I was cooking on the show, which was roasted raccoon, geoduck clam sashimi, fried turtle, and a hog stomach sent up from Louisiana. Lester and Amy didn't eat any, so I got to pig out as soon as the cameras were off.
I went to a photo shoot at Craft afterward, for this article. So I got to have the roast chicken and sauteed wild mushrooms and the glazed carrots. I adore Craft. I was so thrilled that they got such a great review a few months ago in the New York Times, since the hard thing to do in the restaurant business is to stay relevant for a decade. I eat at Craft whenever I'm in town. My wife and I adore Craft. We can hop in there late, we sit at the bar. So to be able to have that private little lunch was just great. The only time I've ever been in there when it was literally empty.
Then I went for a meeting. I'm working with an organization called Services for the Underserved. It helps veterans who have fallen below the safety line. It provides housing and job placement for a lot of people. So I met one of the directors of the organization at Zabar's, and had a bagel and salmon. I tend to load up on my favorite things when I'm in New York.
I went downtown after that and had another lunch with my agent at Pastis. Had the eggs Hussard there. Poached eggs with both bordelaise sauce and hollandaise on an English muffin and roasted mushrooms — I love that dish.
I serve on the advisory board of a company called ProjectExplorer, which is a nonprofit that makes travel videos for kids. I met with the director over at Big Gay Ice Cream. And I had a Choinkwich, a Salty Pimp, some of their spicy hot chocolate. It was awesome.
Back to the hotel, and ate some Swedish creamed roe with crackers, one of the things I always try to pack and snack on.
Then I had a meeting with some publicists at Spice Market. I had the steamed mussels, and I had the tod mon pla, the little fish cakes they do that are so good. I did a shrimp with black-pepper noodles, and some pork satay. Delicious. And then I had their coconut sorbet for dessert. Spice Market is one of those restaurants like Craft. It's been around for a long time, and I think the food is better there now than it was when they opened. There were a couple years when the food was a little soft, but they really have buttoned things up.
Sunday, January 22
Woke up early, and went up to Barney Greengrass. I sat there with the New York Times still warm from the printer and had the smoked-fish plate and toasted bagels, and orange juice and coffee. That's my private New York moment. I go there right when they open the doors every time that I'm in town.
Then I went back down to my hotel and spent the whole day working on three months of recipes and columns for Food & Wine. I'm one of the new food editors there, and was desperately trying to catch up on all of my content.
Later I met three of my agents at Wildwood Barbeque. And we had barbecue and root beer, and I sat and I watched the Giants game where they beat the 49ers, which was fantastic. That was heaven.
Monday, January 23
Got up, did the normal green room junk: fruit, yogurt, bagel, lots of coffee. And had nothing else to eat until lunch time when I doing a shoot for Inside Edition and I got to eat some of the food that I made for them, which was sauteed duck's testicles with white wine and herbs; and a calf's-brain sandwich. It was delicious.
Then I went and met a reporter for the New York Observer who's doing a story on me, and had dinner at Spotted Pig. I had the greatest hits. The liver toast, the roll mops, oysters, the pork belly, and sauteed skate wing. Fantastic.
Second dinner was at a place called LTO, where Eddie Huang was having his Chinese New Year celebration. He did a pop-up restaurant, basically, along with the people at Adidas. Killer food. Eddie is so talented. The steamed fish with five chiles was the best, and I had a fermented fish cake, bao-style. That was extraordinary.
Tuesday, January 24
It was another round of talk shows. I did The Chew and Anderson Cooper. I just ate the food all day long. So I got to eat a Thai chicken dish that I cooked with Mario Batali, and got to try some headcheese that I'd arranged to let Anderson Cooper taste. He was very brave. He's notoriously one of the pickiest eaters on the planet. I think he enjoyed talking with me; I don't think he enjoyed eating with me.
Then I did ABC News Now, and had a little more headcheese.
I raced out to the airport to catch my nighttime flight down to New Orleans. So I had a slice of New York City pizza in Concourse 5.
Car service picked me up in New Orleans and took me to dinner, where I had the most amazing meal I've had in years. My friend Don Link, who's the chef and owner of Herbsaint and Cochon, did a celebration dinner for me with twenty of my crewmates for my Toyota "Appetite for Life" series on MSN. Wild mustard greens with buttermilk dressing, house-cured ham, and gumbo, and a whole side of carved roast pig with dirty rice, and big bok choy that was seasoned with spices I brought him from China. Oh my God.
Wednesday, January 25
That day was Andrew Zimmern Day in Baton Rouge, which was amazing. I was named an official mayor, and the mayor's office gave me the key to the city. We were doing a fund-raiser for the United Way to help raise money and awareness for the victims of Hurricane Gustav. They're still suffering the effects. So we had a food truck meetup, and there was a place called the Curbside Truck. I had a burger with a fried egg and bacon.
Then I judged a jambalaya cook-off between the two reigning world champions, so I stuffed myself on jambalaya.
Dinner that night was at a roadside honky-tonk in Baton Rouge called Boutin's. I had boudin, cracklins, and fried shrimp.
Oh, and dessert. I drove back to the hotel in New Orleans. I was staying at the Roosevelt. My friend John Besh has a restaurant there called Domenica. They have a butterscotch banana pudding there that I always have to have.