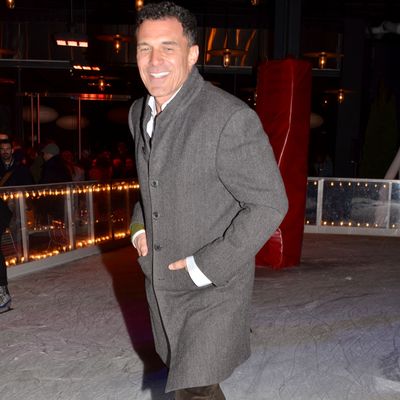 Balazs, just skatin' around last night.
Photo: Andrew Toth/Patrick McMullan
Despite the somewhat mild weather last night, Veuve Clicquot hosted its Midwinter's Night Skate Party at the Standard Hotel's now-annual winter ice rink. Johnny Weir was there (with some big furry mittens), but Grub Street was more interested in talking to Standard owner Andre Balazs about his plans for the Cooper Square Hotel.
First off, the rink is great. This is your second year having it. Why bring it back?
Bring it back? Because it's unbelievably popular.
Do you ice-skate on it yourself?
I do. That's the origin of the idea. I grew up in Boston playing pond hockey, so to me ice like this is fantastic. We always tried to do it. I was happy we were able to fit something in that was rivaling Rockefeller Center a little bit. This is 70 percent there, the size. Hockey and ice-skating on this scale has always been something familiar to me and really fun. And it's proven that people love it.
When you got back out there was it as easy as it used to be as a kid?
Yes, I've played a lot of hockey since then. It's not like I stopped it. It's fun. The kids love it because of the way it's situated; it's very much a community thing, and other than Rockefeller Center there's no other rink outside south of Central Park.
Do you have a favorite winter activity?
Skiing.
What about in the city?
You know, I always love when you can rollerblade around town, which I do all year as long as there is no ice.
Can you tell me anything about your new place downtown?
We're in the process of redesigning the public spaces. It's the Standard East Village. It's a more residential, more quiet — more introspective, if you will — Standard. Each one is different. They're related, but they're different. They're like siblings in a family.
What about the restaurant or nightclub?
There will not be a nightclub, and the chef — we're talking to a bunch of people now and it will be a very dramatic redesign of the space, but it won't be a nightclub.
So less crazy than this? No stories of people in the windows?
Well, there may be people in the windows, but it won't be related to a club.