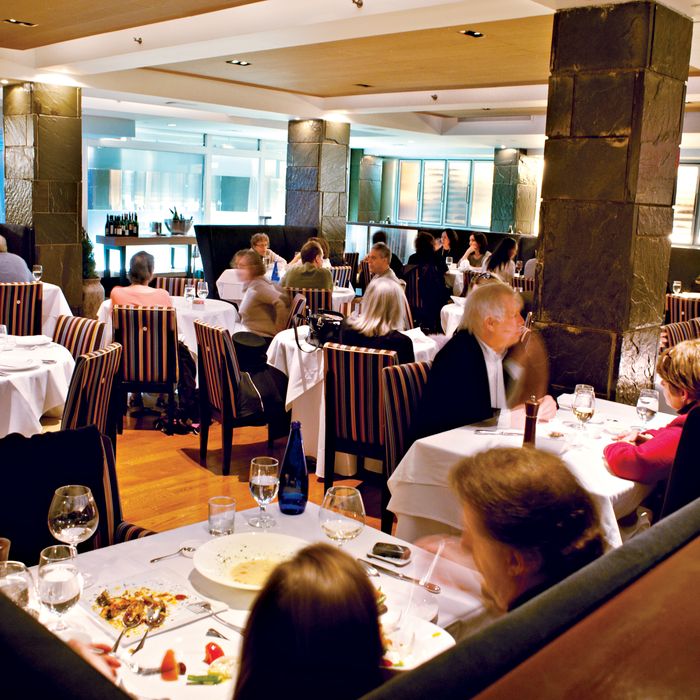 The dining room at Loi.
Photo: Danny Kim
In this week's New York, Adam Platt drops into Loi, housed in the doomed-seeming venue "known in restaurant circles as the Compass space, on 70th Street off Amsterdam Avenue." However, seats here are "actually filled with diners, merrily tucking into hot baked spinach pies threaded with feta, platters of keftedakia meatballs, and dainty cheese croquettes garnished with a fig compote." Maria Loi herself, often referred to as "the Martha Stewart of Greece," might even be on hand. "Get the horiatiki, with feta, chunks of tomato, and Loi's vinaigrette," writes our critic, who also endorses the "superb charred octopus … sprinkled with fried chickpeas and shavings of almond." Sadly, "some of the more standard entrées at Loi weren't as successful as th[e] classic seafood dishes," including a "flabby-skinned" lemonato chicken, and a "leaden brick of macaroni pastitsio"; Platt gives the restaurant two stars.
Meanwhile, Platt also drops in on Saxon + Parole, which "features grilled meats and 'aquatic delights,' … a fancy way of describing the kind of bankable, run-of-the-mill surf-and-turf specialties (grilled lobster, steak for two, a pork chop) which you'll find in bistros all over this stolid, meat-and-­potatoes-soaked town." He awards the "stylishly generic" restaurant one star.
Less generic is Sisha Ortúzar's recipe for parsnip soup with Brussels sprout-apple hash, which Rob Patronite and Robin Raisfeld procured from the Riverpark chef this root-vegetable season. The Robs also bring news of a new cocktail joint in Alphabet City: the Wayland, where the bitters are made from radishes, and the ice is applewood-smoked, whatever that entails.