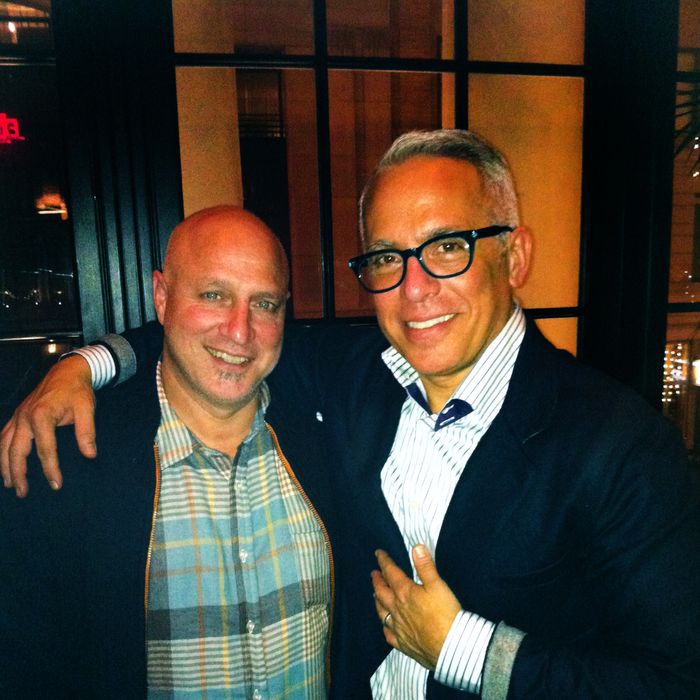 Zakarian and Colicchio celebrate "Food TV" domination together at the Lambs Club.
As everybody knows by now, Geoffrey Zakarian is the Next Iron Chef. Yippee! But he'd also like for us to know that it was not an easy journey. After a wild celebration at the Lambs Club last night, with pals Tom Colicchio and Anne Burrell, and back-to-back interviews on The Chew and such, we had to check in with Chef GZ … just to make sure he was holding up okay.
You've been a busy man!
The press is a joy; at least I'm sitting down. The show, that was grueling. We had people there of all ages and types, and I was the oldest guy, which is no big deal. But yeah, it was very, very difficult. When I finally got home, I just laid down.

It's always fun to debate which show is harder on its chefs: Top Chef or The Next Iron Chef …
Yes I know, but that is a thankless argument. Believe me.

Won't the actual battles in Kitchen Stadium now seem easy compared to winning the crown?
No way. Now comes the hard part. I'm cooking against people who will absolutely do anything to dethrone me. They're going to be getting a lot of notice. They're going to prepare on how to beat me.

Your strengths and weaknesses as an Iron Chef?
Going up against a Japanese fisherman would not be good. Especially if the battle was tuna, then I'd be screwed. I'm not a pastry chef so I'd have to do a lot of practicing on that. But my strengths are that I'm charming. And I have a long, long history of cooking, which sounds trite, but it's not.

Are you noticeably more famous since this week's win?
Well, a New York bus driver was tooting the horn at me this morning while I was crossing the street, and I raised my hand like, "What, what do you want?" And he gave the thumbs-up. That was cool!
Get any advice on fame from Tom Colicchio last night?
If I did, I drank too much Champagne to remember. But I'd like to see my face on a bus like Tom. I want to be on a bus just like him — not with other people — just mine!