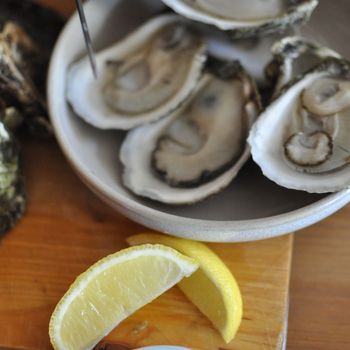 Pros don't use the lemon.
There's no shortage of oysters in New York these days, but now Rhode Island–based small-scale producer Walrus and Carpenter is offering yet another way to get your hands on some: A selection of two year-old cocktail oysters will be available the purchase CSA-style next week. Farmers Jules Opton-Himmel and Sean Patch have been working a lease in Rhode Island's Ninigret Pond for two years and have around 30,000 oysters (each a bit bigger than two inches) ready for harvest.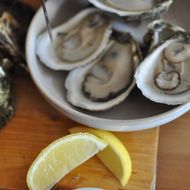 It's a good time to try them, too; as the water temperature cools, oysters go into a bit of a survival mode/glycogen food coma, which, perhaps ironically, is said to make them tastier. Walrus and Carpenter oysters are available for purchase in quarter-shares (25 for $31), half-shares (50 for $62), and whole shares (100 for $100). The pickup location is Brooklyn Kitchen, and the date is Saturday December 17, from 4 to 8 p.m. (Additional dates will be announced later.)* When you show up, the farmers will even give you a quick tutorial if you're not up on your shucking technique. E-mail Jules and Sean for more details and to reserve a share.
*This posted has been corrected to show that the pick-up date will be December 17, not December 16.