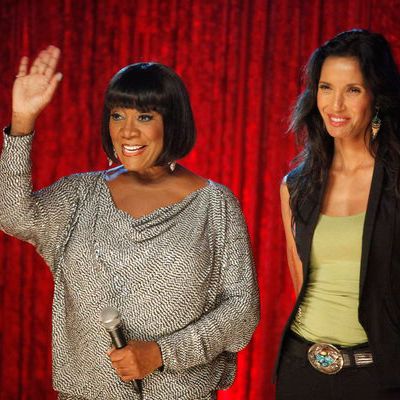 Sharon Jones and the Dap-Kings weren't available?
We're going to Austin! Well, sadly, we're not, but the remaining nine million ten chefs are. Naturally, it took a road trip in the product-placementmobiles (with product placement camera confessionals) to get there, but we did learn that everyone calls Cute Chris "Malibu," that Paul sold weed for seven years before getting into cooking, and that Beverly is a huge believer in karma.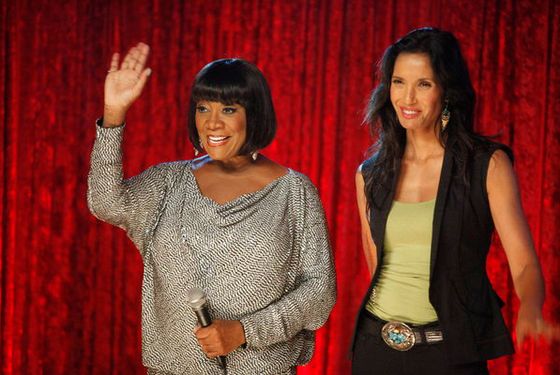 This week's Quickfire was the Twitter challenge we told you about way back in July. Padma and Tom asked followers to come up with challenge ideas and called out instructions for chefs as the challenge went on. Sadly, they did not take our suggestion to cook with armadillo meat, but they did tell the chefs to make a dish with bacon, add a hash to it, and pick an ingredient for another chef to use. Most people were nice and gave each other ingredients like lemon and sriracha, but everyone complained anyway. The judges liked Beverly's crispy pork belly with corn and bell-pepper hash, as well as Sarah's burrata-stuffed squash blossom with bacon-zucchini hash; but they gave the win to Paul for his bacon many ways, including crispy bacon and chorizo-mushroom hash.
Our cheftestants were then instructed to go hang out at the hotel bar, where they got to enjoy the musical stylings of Patti LaBelle ("she looks exactly the same," noted this recapper's roommate) while Sarah cried and fanned herself. Either this group of chefs is made up of excellent actors or they are all incredibly oblivious, because they were quite surprised when Padma walked in and explained that Patti would be the guest judge for the elimination challenge.
For the first time this season, Padma doled out a challenge that was both interesting and a good way for the chefs to showcase themselves: Make a dish honoring the person who inspired each of them to cook. The Whole Foods montage was the usual snoozefest, so we spent the time thinking about what we'd make to pay tribute to our Nana. These happy thoughts were rudely interrupted by a nice long shot of Creeper Chris's butt crack. Next time just show us more pictures of Beverly's cute, fat baby, please.
During service, the judges also talked about their inspirations and what they would make. Emeril, finally making an appearance, would honor his mom, while Patti would cook macaroni and cheese with eight cheeses and lobster and shrimp. Question: How do we get an invitation to the LaBelles?
Most chefs' inspiration came from moms and grandmas, though Malibu Chris paid tribute to his uncle while Ty-lor Boring explained his fondness for the Japanese nanny he had growing up. The top dishes were all more modern interpretations of food the chefs had as kids: Sarah's grandparent-inspired cabbage stuffed with sausage and brown butter; Beverly's mom-honoring Korean-braised short rib with edamame puree and mushrooms; and Ed's grandma-inspired vegetarian modern bibimbap with lemon-chile sauce. The judges seemed more pleased with these three plates than anything they'd seen all season, and gave Sarah the win, causing Patti to be the one tearing up this time.
Grayson, Heather, and Malibu Chris ended up in the bottom three, which were called before the top three, a twist no one saw coming even though the judges do it every season. (Like we said, great actors or naïve beyond belief?) Grayson's grilled rib eye steak with German potato salad was unimaginative and not cooked well. Incorrect cooking was the theme of the bottom: The fish in Malibu's sockeye salmon with brown sugar carrot puree was cooked too quickly at too high a temperature, while no one could even tell what cut of meat Heather used in her beef stroganoff with herb spaetzle and mushrooms — Patti assumed it was meat from Bigfoot. And reminding people of Bigfoot got Heather the boot (see what we did?), prompting Beverly to be all "HA! Told you so, biatch! Peace out, suckaaa!" (we paraphrase, but that was pretty close). Karma, indeed.
In two weeks: Fires! Fire alarms! A giant barbecue! Food that's like sex in your mouth! Sarah gets dizzy! Ed gets pissed! Salty food!