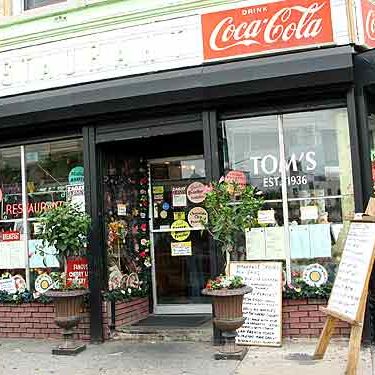 Like this, but more blue, and with sand.
As the owners of the ever-packed Park Slope restaurant Al Di Là prepare to open a second location on Washington Avenue near the Brooklyn Museum, another perennial favorite on the same block has big news: Mind-blowingly decorated old luncheonette Tom's Restaurant will open a second location, and it's on the beach. NY1 is reporting negotiations between Tom's owner, Jimmy Kokotas, and Zamperla to open in two renovated boardwalk storefronts (occupied previously by Nathan's and ChaCha's) along the same row of concessions where the old Gregory & Paul's complex once did business. (You'll remember Paul's Daughter, the last remaining part of that boardwalk concession, was evicted earlier this year.)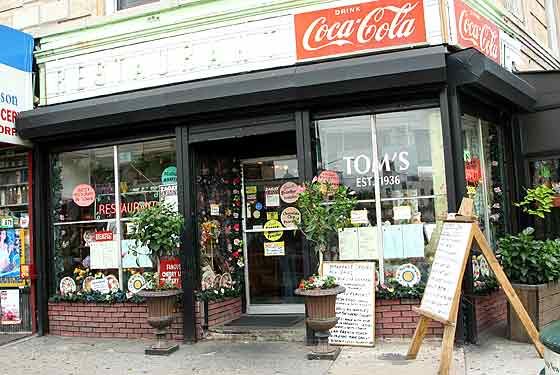 Jimmy Kokotas plans to open the new Tom's with a roof deck and tells NY1 he'd like to stay open year-round. And while the preliminary architectural renderings look a lot like a big, blue, Art Deco–esque inkblot, the keepers (preservationists, really) of the old neighborhood flame, on the message boards at the nonprofit website Coney Island USA, seem receptive to the news. "Will be nice to have egg creams available in Coney Island again," one poster writes, "since Philips was forced by the MTA to leave for Staten Island."
Tom's Restaurant in Coney Island is projected to open next April.
NY1 Exclusive: Deal Will Bring Tom's Restaurant To New Location On Coney Island Boardwalk [NY1 via Gothamist]
Earlier: No More Summers: The End of the Coney Island Mom-and-Pops