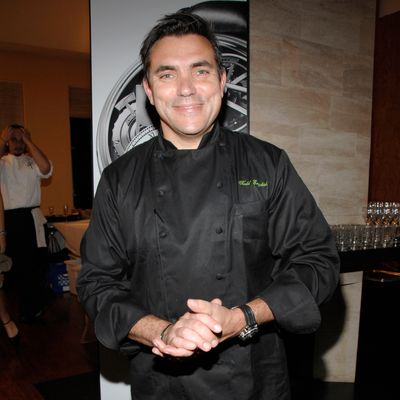 "Why yes, that is a menu on your pillow."
Listen up! Thanks to a Groupon deal, you can now cook dinner alongside celebrity chef Todd English (and learn how he became one of People magazine's most beautiful humans), all for the the very reasonable price of $25,000. Trying to decide if cooking with Monsieur English is worth spending as much as it would cost to go to culinary school for an entire year? To help, we decided to examine Groupon's deal points and weigh them pro or con, accordingly. Let's scrutinize some fine print!
You can bring up to two additional guests to a post-class feast: Pro.
Not only will you have actual company to distract you, but you can probably get them to chip in on the price.
The "experience" for two only lasts 1.5 hours: Con.
This isn't 30-Minute Meals, Todd. $12,500 per hour is pretty steep.
The Groupon likens English's cooking to B.B. King's guitar playing: Con.
Granted, B.B. King has played at Mohegan Sun, where Todd has a restaurant. But that's where the similarities end.
The deal includes a three-night stay for two at Affinia Manhattan: Con.
The hotel seems fine, but what happened to the other diners? Did someone go home with Todd? Does someone else have to sleep on a cot? For this much money, logistical oversights shouldn't be an issue.
You get a double-thumbed oven mitt and you will "earn the admiration of oven mitts everywhere as Todd ushers" you into his kitchen: Con.
Does the double-thumbed oven mitt have feelings? Does it yearn to make all other oven mitts jealous?
The package includes four signed copies of Todd English's new book, Cooking in Everyday English: The ABCs of Great Flavor at Home: Con.
The book is $15 on Amazon. You could literally buy 1,500 copies for the price of this Groupon.
Also included: A $100 food-and-beverage credit at Niles New York City Restaurant & Bar: Con.
Chances are, if you're willing to spend $25,000 to wine and dine with Todd English, you really don't need that extra $100 for dinner, do you?
Your room at the Affinia Manhattan boasts a "six-choice pillow menu" and a signature Affinia bed: Pro.
It does sound cozy.
Final Tally: Two pros, six cons. We'll stay home and use the money we save to buy one of those fancy beds they have at the hotel.
Private Cooking Class and Dinner with Todd English [Groupon]