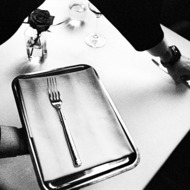 Setting the table at our No. 1 pick.
It's been six long years since New York (and this critic) had the reckless, possibly insane idea of compiling a list of the top restaurants in New York City and ranking them from 1 to 101. Given everything that's transpired in the endlessly evolving world of big-city restaurants, however, it feels more like six centuries. Back in the dim, pre-recession year of 2006, fat-cat bankers still roamed the culinary landscape, lavishing their bonuses on thousand-dollar bottles of Haut-Brion, Brooklyn was still a relatively minor culinary planet orbiting the great sun of Manhattan, and David Chang (whose Momofuku Noodle Bar was our No. 101 restaurant that year) was an obscure cook toiling away down in the East Village.

These days, of course, the entire edifice of what used to be called "haute cuisine" has been officially turned on its head. Mr. Chang is now one of the most prominent chefs in the country, and Brooklyn has become a primary dining destination for thrill-seeking swells from across the river in Manhattan, not to mention around the world. Roughly a quarter of the establishments on our original top-101 list have gone out of business, while many have lost their edge. Countless others have fired their chefs, revamped their stuffy, suddenly outdated dining rooms, and retooled their menus to reflect the tastes of a new generation of eaters obsessed less with ancient notions of "gourmet" propriety than with comfort, cost, and the elemental pleasures of a good, locally sourced pork chop.
Given these seismic changes, we thought it was time to haul out the original Platt 101 and give it a radical update. Like last time, we've ranked our favorite restaurants according to the magazine's star system (5 = ethereal, 4 = exceptional, 3 = generally excellent, 2 = very good, 1 = good). Because we live in a more utilitarian, two-star world, however, it is this grumpy critic's opinion that there are no five-star restaurants in New York City this time around. Farm-to-table joints outnumber fancy Asian-fusion palaces on this version of the list. Old Michelin perennials have plummeted, outranked by a rabble of nouveau-speakeasy joints, Brooklyn dining bars, and even the odd circus-size Italian food hall. As usual, the subjective judgments and opinions expressed in these pages are open (indeed, designed) for debate. Because we're slaves to fashion, like most New Yorkers, we've tended to favor newer restaurants over older ones. And there are plenty of other worthy establishments that we've neglected. Are these the absolute best places to eat in the city right now? We think so. But like the original Platt 101, this one is designed as a culinary snapshot in time. Use it as a guide as you make your way around the diverse, always delicious, constantly changing world of New York restaurants. And pay attention. Soon everything will be different, and your weary, bilious critic will have to tuck in his napkin and start from scratch all over again.
Related: Where to Eat 2012