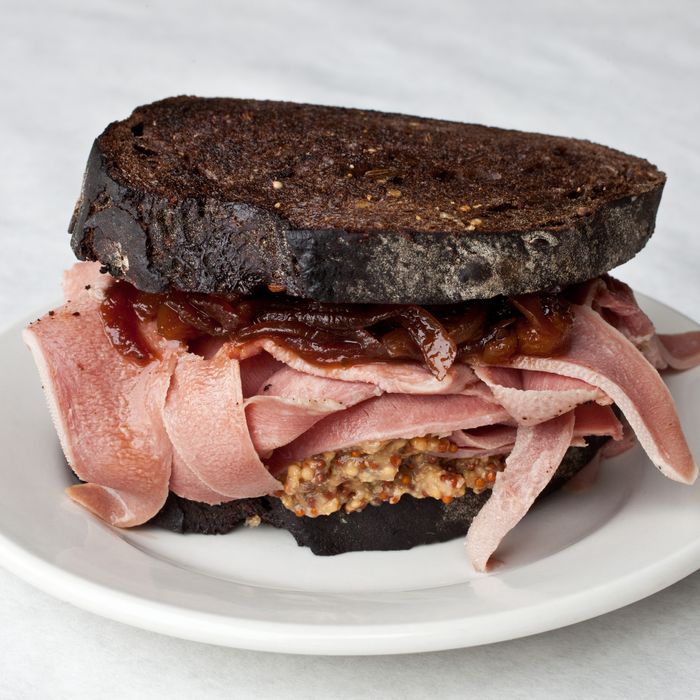 Mmmm … tongue sandwich from Mile End.
Mile End's owners Noah Bernamoff and wife Rae Cohen were at the Community Board 2 SLA committee hearing last night seeking a beer and wine license for their upcoming Mile End Sandwich. As you might imagine, they encountered some resistance.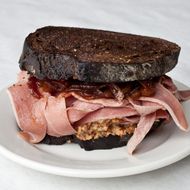 Bernamoff and Cohen collected a petition with about 140 signatures in support of the app, but Noho neighborhood advocate Zella Jones expressed concern. "This is not a breakfast and lunch neighborhood — it's not like Boerum Hill," Jones told the SLA committee, noting she was concerned that the hours and business plan would actually attract a late-night drinking crowd. Soon after her remarks, the committee went into executive session and voted unanimously against the app.
Bernamoff, who plans to keep Mile End Sandwich open between the hours of 8 a.m. and 2 a.m., says he spoke with Jones last Sunday and tells us, "I understand whole-heartedly her concerns about a neighborhood that's rapidly gentrifying." As for the status of the liquor license, Bernamoff says, "We'll take our chances on the state level, which are pretty good."
Expect the shop, which will be located at 53 Bond Street, to open early next year.
Earlier: Mile End's New Location Headed to Noho in the Fall, Will Be Called Mile End Sandwich