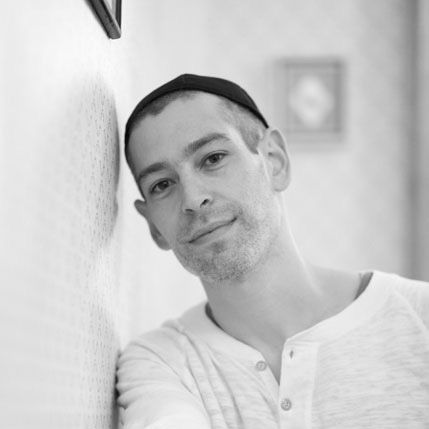 Matisyahu: now with less beard.
Newly shorn Matisyahu is in town this Hanukkah week for his sixth annual Festival of Light tour (which kicked off yesterday). Though he may no longer be Hasidic, he does have a new identity of sorts: "About two years ago I became vegan," the reggae artist told us. His reasoning? "If a person has clean oil, then their candle will burn bright." There's a super-deep Hanukkah analogy for you on this first day of the holiday, which begins at sunset. While you mull that over, check out Matisyahu's recipes for latkes (in case this made you hungry) and vegan jelly doughnuts. Don't give him all the credit, though: "I'm not that advanced, I usually just make really simple stuff. For this I went to my mother-in-law."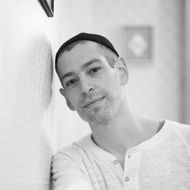 LATKES:
Supplies:

3 Potato peelers
1 sharp knife
1 colander
1 food processor
2 large bowls
2 large spoons
2 frying pans
1 measuring cup
2 rolls paper towels
1 set of measuring spoons

Ingredients:
5 med to large Yukon Gold potatoes
2 onions chopped
3 large Range Free organic eggs, lightly beaten
2-4 tablespoons white or whole wheat flour 
1-2 teaspoons salt
1/2 teaspoon pepper
canola oil

Peel potatoes. 
Slice potatoes and put it into the food processor using the shredding blade
 Remove the shredded potatoes and place them in a colander. Use cold water to rinse off the starch from the potatoes. This will keep the potatoes from getting dark.
 Squeeze out the excess water. 
Place the chopped onions and the shredded potatoes back into the food processor fitted with the metal blade. Pulse until smooth. 
Pour potato mixture into a large bowl.
Stir in eggs. Add flour, 1 tablespoon at a time. Then salt and pepper to taste.
 Hand mix with a large spoon until the mixture holds together like a wet paste. 
Pour oil into a large deep pan to depth of 1 to 2 inches and heat over med-high heat.
Carefully drop 1-2 heaping tablespoons of potato mixture to make one latke, into hot oil, flatten slightly.
 Fry for several minutes on each side until golden brown. drain on paper towels. 
May be served with applesauce as a side dish.


VEGAN JELLY DONUTS:
1. 3 Measuring cups
2. 3 large bowls
3. 2 Wooden Spoons
4. Towels
5. Large and small pots for stove
6. 3 baking sheets
7. Tool to cut circles out of batter
8. Plastic wrap
9. 2 Pastry bags
10. Wooden dowl or toothpicks
11. 2 large skillets


INGREDIENTS:
· 1 0.25-oz. pkg. active dry yeast
· 1/4 cup plus 1 tsp. sugar, divided
· 2 1/2 cups all-purpose flour
· 1 tsp. salt
· 1/2 tsp. baking powder
· 1/2 tsp. ground nutmeg
· 3 Tbs. nonhydrogenated vegan margarine, melted
· 2 cups canola or vegetable oil, for frying
· 1/2 cup superfine sugar
· 1/2 cup plus 1 tsp. seedless raspberry jam
·
· DIRECTIONS:
· 1. Mix yeast and 1 tsp. sugar with 1 cup warm water (110°F) in measuring cup. Let stand 5 minutes, or until mixture foams and smells yeasty.
2. Whisk together flour, remaining 1/4 cup sugar, salt, baking powder, and nutmeg in large bowl. Grease separate large bowl with oil.
3. Stir yeast mixture into flour mixture with wooden spoon until sticky dough forms. Add up to 1/4 cup warm water to make smooth dough. Stir in melted margarine. Turn dough out onto well-floured work surface, and knead 6 to 8 minutes, or until smooth, soft, elastic dough forms. Add flour while kneading, if necessary. Transfer to oiled bowl, cover with towel, and let rise in warm place 1 1/2 hours.
4. Dust baking sheet with flour. Roll dough out to 1/4-inch-thick round on well-floured work surface. Cut 25 circles from dough with 2-inch round cutter. Transfer rounds to prepared baking sheet, and cover loosely with plastic wrap. Let rest 15 minutes.
5. Heat oil in large skillet or Dutch oven to 370°F, or until hot but not smoking. Fry doughnuts in oil 3 to 5 minutes, or until deep golden brown, turning two or three times. Drain on paper-towel-lined plate; then roll in superfine sugar while still warm. Cool.
6. Poke small hole in side of each doughnut with toothpick or wooden dowel. Use pastry bag fitted with small round tip to fill each doughnut with 1 tsp. raspberry jam.