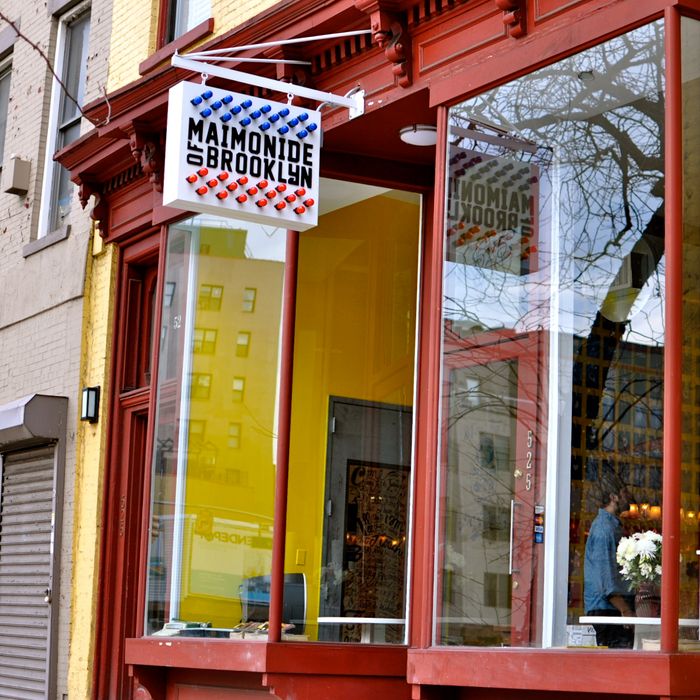 More aboveground than the Batcave, less isolated than the Fortress of Solitude.
Over the summer word broke that the Paris-based, Philippe Starck–designed, hotel-and-cocktail bar complex Mama Shelter was looking to open somewhere in Bushwick. It may not be a high-end cocktail bar, but today at 525 Atlantic Avenue, Mama Shelter partner and co-creator Cyril Aouizerate (who'd also like to build an ultragreen, vegetable-producing hotel in Brooklyn Bridge Park someday) opens Maimonide of Brooklyn, a vegetarian and vegan café specializing in a sort of millennial brain food, it would seem. And how best to introduce such a restaurant, named for a powerhouse medieval scholar, doctor, and philosopher who has been refashioned into a thoroughly modern, 21st-century pizza boy turned superhero? Probably best to do that in a comic book. And that's exactly what's happened.
Aouizerate, who fittingly resembles a hobo-like D.M.C. in real life, makes appearances throughout the comic book, which also serves as an introduction to MOB Brooklyn's mostly vegan menu. The bill of fare includes a selection of flatbreads shaped like Brooklyn Bridge archways, soy nuggets served in fast-food style clam shells, doughnuts "fired" in steam, not fat, and corn soup garnished with popcorn, served "in memory of the Native Americans who used to grow corn on Boerum Hill in Brooklyn." About time someone did that last one. While this may all seem a bit left-field, the menu was in part developed by Stéphane Pitre, a chef who's worked under the great French chef Alain Senderens, another of Aouizerate's Mama Shelter collaborators.
As for that comic book, stop by the restaurant and pick up a copy (or check out this PDF preview) of Maimonide of Brooklyn: The Awesome Genesis Vol. 1, which introduces Barack Tomahawk, our hero-to-be watching a "very ordinary Knicks game." He's soon called into service to deliver pizza (that's his job) via moped, then Barack takes a tumble into a pile of fruit, upon which he is approached by a shopkeeper who has the decent sense to recognize an ancient powerful prophecy come true. "The one who shall kiss the melon while flying like a wasp shall be Maimonide," says the shopkeeper, proffering the ancient scholar's Brooklyn Bridge–shaped medallion. We won't tell you the rest. It's 40 pages of fun that includes, in addition to the saga of a hero's journey, a goofy, two-page spread instructing you to "write a love note in white-out to your neighbor."
So starting today, there's a new hero on Atlantic Avenue. There are also open-faced vegetarian sandwiches that resemble the arches of a national landmark, made to order.
Maimonide of Brooklyn, 525 Atlantic Ave., nr. Third Ave, Boerum Hill
Maimonide of Brooklyn preview [PDF]