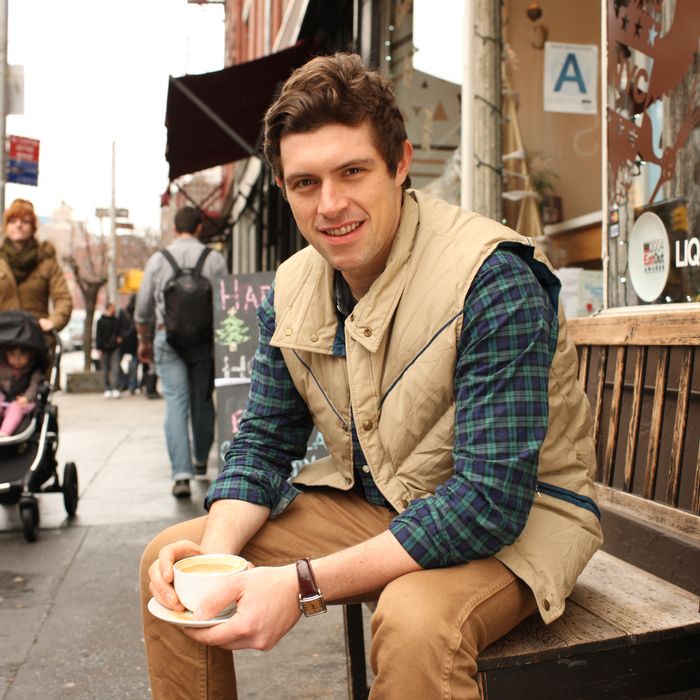 Epicurean Management's Joe Campanale refueling outside Chocolate Bar.
You'd think a guy who's engaging with staff, salespeople, and customers all day and all night might want to close his eyes and fade away after work. Not Joe Campanale, the beverage director and co-owner of dell'anima, L'Artusi, and Anfora. "I consider it part of my job to go out and see new places," he tells Grub Street. "Plus, I'm a very social type!" If he's not bouncing around his businesses, Joe's bopping around town with his girlfriend ("She was a regular at Anfora; she asked me out!") or getting brunch with his bacon-craving, "Jewish New Yorker" mom. Read about his dinners with friends, and why dell'anima will always be his baby, in this week's New York Diet.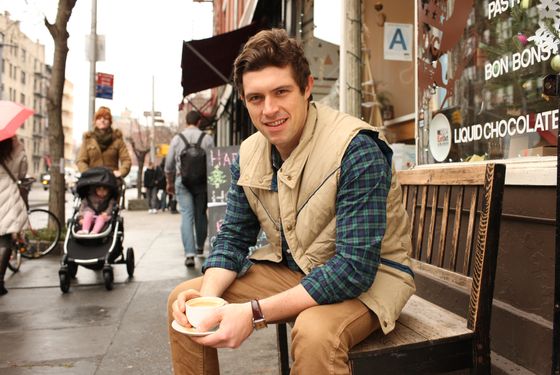 Friday, December 16
I woke up early, which I always do, and had a Honeycrisp apple, and then went for a run. I came back and made a big bowl of oatmeal with peanut butter, blueberries, banana, and bourbon-barrel aged maple syrup.
For lunch, we had a shoot at Anfora and we ordered food in from Corsino, so it was a lot of antipasti, pasta, grilled chicken, arugula salad, and bread. I'm getting more into Asian food, but these are the kinds of dishes I usually gravitate to.
After the shoot, I was feeling a little off, so I went upstairs to my apartment and actually took it easy for the next twenty hours.That's not like me — I love being with people.
Saturday, December 17
I was still feeling a little under the weather, so I just had a small bowl of Kashi Cinnamon Heart to Heart. Today I didn't work out, but most days I go running, and my girlfriend has gotten me into yoga.
I always go to brunch with my mom on Saturdays. She's happy with anything involving bacon and good American drip coffee. We strayed from the comfort zone and ended up at Kambi for some ramen, though. Then we grabbed a chocolate chip cookie and cup of coffee at ChikaLicious.
Later that night, I went to my friend's house for a holiday party. Our chef de cuisine from dell'anima, Andrew, was cooking, so the food was amazing. We had kale salad with pickled shallots, squash and pumpkin risotto, seared scallops with white truffles, porcinis, broccoli rabe, and beef tenderloin. I ate well!
Sunday, December 18
I opened up brunch at dell'anima and had some eggs with cannellini beans, bruschetta, and frisée/chickory/radicchio salad, which the chef made for me. Then I got coffee from Chocolate Bar.
For lunch I had soup from Bonsignor, which is across the street from dell'anima. I mention dell'anima a lot because of all our restaurants, it really is my baby; it's my first-born. And I live above it.
For dinner, we went to Momo in Bushwick. It's one of my girlfriend's favorites — mostly Japanese with a little fusion. We had a bunch of sushi, some udon noodles, pork belly with vegetable tempura, and pork gyoza.
Monday, December 19
I made scrambled eggs and toast with some Blue Bottle coffee for breakfast. I've lived alone for so many years, and breakfast is a great thing to cook for one. Then I had an empire apple and went to the gym. When I go to the farmers' market I get one of a variety of different apples so I get a different taste each day.
For lunch, I had leftover udon noodles from Momo. I heated them up, fried an egg, and put that on top of it. I normally don't drink a lot of soda, but today we installed Boylan's Natural sodas at all of the restaurants so I tasted a bunch.
Had a going-away dinner with my friend at Great Jones Cafe, our college favorite. I had Gumbo, great sweet potato fries, cornbread, and a beer I've only seen there called Stiegl. Then we went to the expanded Bar Veloce. In college I used to bring dates there; it was a closet, [but] now it seems huge. We had a lot of Nardini Amaro.
Tuesday, December 20
Nibbled on some dry Kashi cereal before heading to yoga. Il Buco Alimentari was on my mind, so after class went there for some really great coffee and had an egg-and-kale tart. The guy behind the counter was kind enough to give me a sample of the still-hot salty focaccia.
Went to a trade lunch at Blue Smoke to promote the wines of Rousillon in the south of France. Had some really good BBQ. I went here after running the New York City Marathon this year with my family.
Got home and nibbled on some Dean & Deluca treats. Love the "Cappuccino Almonds"! Had a pear right before service.
Tuesday night is producer night at Anfora, so I am usually there those nights. Afterward, I went to the newly opened bar called the Wren. I can confidently say I had the best fish and chips of my life there.
Wednesday, December 21
Made myself some toast with almond butter and Niagara grape jelly, and a cup of Fonte Coffee in the French press.Had a siggis grapefruit yogurt.
Had a mid-afternoon cappuccino at Chocolate Bar — I go here all the time to do work. I think that a lot people in the hood don't realize how good their coffee is or don't associate it with a coffee place.
Then i went for a late afternoon run and when i got back had a Bosc pear and more Dean & Deluca chocolates.
At night, I shuffled between dell'anima and Anfora. Then had a meeting with my business partner over dinner at Ellabess. I ate the squash with bacon, chicken with barley risotto, and chicken báhn mì sliders. I'm in a dark-beer mood right now, so had an Anchor porter with dinner. I called it a day after that … but would have stayed out if he wanted to.