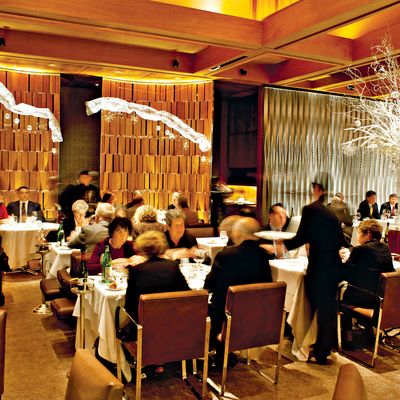 Le Bernardin's slick new surroundings.
In this week's New York, Adam Platt evaluates the newly revamped Le Bernardin, which reopened after a month-long makeover this summer. "[T]he postmodern touches (the tinny, upbeat soundtrack, the hard-edged art, the gleaming new plates by Bernardaud) make the space feel busier and more hectic, and the essential stately character (the 'Frenchness,' as Mrs. Platt put it) of the old restaurant is gone," writes our critic. However, "happily nothing much has changed in Ripert's legendary kitchen." Dishes are still categorized as Almost Raw, Barely Touched, Lightly Cooked; Platt enjoys "deliciously dissolving slices of raw scallop dressed with tangy, faintly minty chimichurri sauce," "melting little slices of octopus," and "the red snapper (spiced with smoked paprika and chorizo and encrusted with a buttery scrim of toast)," not to mention "the most decadently delicious lobster roll in the city." However, with the renovation, "a little bit of the old magic is gone"; the formerly five-star restaurant receives four stars.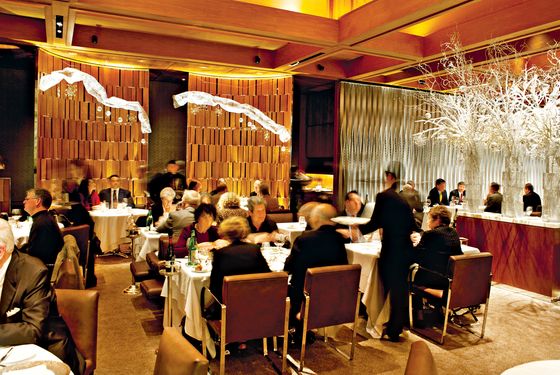 Meanwhile, this being the Reasons to Love New York issue, there's naturally some food-focused swooning. Platt chimes in again with a paean to La Grenouille's classic Dover sole, which even his mother approves of. The Robs round up their favorite cheap eats du jour, including the sardine skeleton at Isa; and who wouldn't love a pay-what-you-want restaurant, like Santorini Grill in Williamsburg?
Meanwhile, the Robs have been on a carb rampage, eating their way through every bread in the city worth its salt. From Roberta's to Eataly, behold their roundup of the greatest things since sliced … well, you know. And speaking of bakeries, Jim Lahey of soon-to-expand Sullivan St. Bakery has been up to some crazy things, some of them involving hookworms. Also, carbo-licious: the "tender, buttery" madeleines at newcomer Dominique Ansel Bakery.
Also trending: Lower Manhattan, where the options for drinking and dining keep getting better and better. And speaking of upgrades, check out Parm's negroni, made with, of all things, beets.