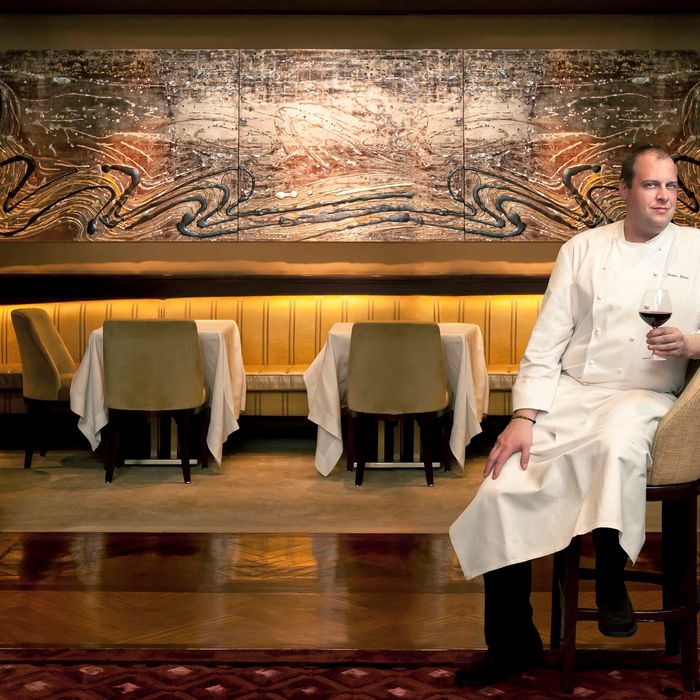 He's a four-star chef whose son and daughter come first.
You might not immediately recognize Didier Elena, the Monaco-born chef with multiple Michelin stars, a James Beard award, and impeccable reviews under his apron. But as executive chef at Adour Alain Ducasse, he doesn't quite mind the ambiguity. "I split my life 50 percent at work, and 50 percent with my family. You do not have time for other things like parties," he told us. It's a mentality that, in a word, is refreshing! See how Didier devours dosas in the park and prepares barbajuans (qu'est-ce que c'est?) in the weeds, in this week's New York Diet.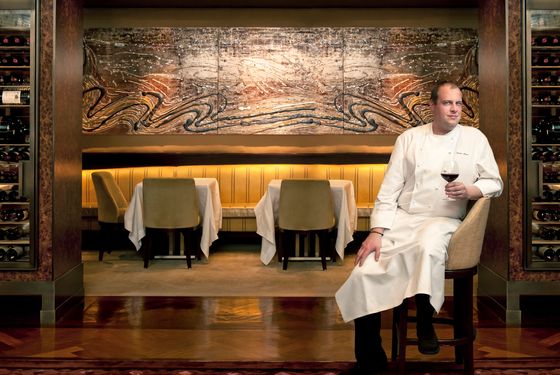 Friday, December 2
I never sleep, so I'm always the first to wake up in my house. I had two cups of black coffee in the kitchen before I took my children to school, like I do every morning. We live in Long Island City, and I went straight to Adour after I dropped the children off at school. We worked on a new vegetable cook pot dish — a fall and winter cook pot filled with turnips, parsnips, butternut squash, chestnuts, red onion, and is served with a panisse. I ate as I worked, then came home around midnight and my wife, who is also a chef — she used to work at Balthazar — made Japanese rice with teriyaki sauce for dinner. We shared a bottle of chardonnay over dinner, which we have done every Friday evening for the last ten years.
Saturday, December 3
I woke up very early and drank my customary two cups of black coffee in the kitchen. I had to be at the restaurant particularly early this morning because there was a private engagement party in the restaurant that evening with an extensive menu. I spent most of the morning creating barbajuans, a delicacy from Monaco. They are small raviolis with herbs, ricotta, Parmesan cheese, leeks, and Swiss chard. I did not eat lunch as I was too busy preparing for the party. But at least I was home by 10:30 p.m., very early for a Saturday night at the restaurant. I don't enjoy sweet dishes, but my wife made crème brûlée, which I called dinner and really enjoyed.
Sunday, December 4
Sundays and Mondays are reserved for family. This is very important to me. I split my life 50 percent at work, and 50 percent with my family. You do not have time for other things like parties.
I woke up early as usual, and made my daughter blueberry, chocolate chip, and plain pancakes with maple syrup. I enjoyed the pancakes as well, with my two cups of black coffee.
We all went to Chelsea Market. We bought lots of fresh vegetables and lobster for lunch. Back at home we roasted the vegetables and the lobster in the oven with salted butter and herbs.
For dinner, we went to Peasant. The chef and owner, Franck DeCarlo, is a close friend of mine, so he just sent lots of food to the table. My kids love going in and out of the kitchen there! In four hours, we drank Italian wine and feasted on ricotta cheese, oven-roasted tomato and mozzarella, spicy polpi, razor clams with bread crumbs and butter, a variety of pastas, broccoli, oven-roasted beef porterhouse, veal chop, and finally panna cotta, bread and butter pudding, and fruit for dessert.
Monday, December 5
Had black coffee for breakfast, and then my wife and I took our children to school. Adour is closed on Monday, so we spent the day sampling food at various food carts around the West Village.
Thiru Kumar's food cart, located at the edge of Washington Square Park, is one of my favorites. My wife and I shared a dosa, the vegetarian crepe from South India. It's one of the best food carts in NYC. Then we ran into the Mexicue food cart and couldn't resist the Smokey BBQ beans and Berkshire Pulled Pork sliders. My wife made sure that we tracked down the Van Leeuwen ice cream food truck, where I indulged in a coffee-custard ice cream cone.
We picked the kids up from school, then went to Agata to buy a chicken for dinner, and on our way back to Queens we picked out a Christmas tree for the house. While I prepared the chicken — with boursin, shallots, garlic, herbs — the children and my wife decorated the Christmas tree. The kids had Valrhona chocolate for dessert.
Tuesday, December 6
I went through my usual morning routine of two cups of black coffee and then took my children to school.
We had Jean Luc Colombo come into the restaurant, and tasted a beautiful Rhone alongside a new dish I have been working on — eggplant stuffed with eggplant caviar, a smoked ricotta from Brooklyn, layered with red onion, celery root, carrots, and cheese. It sounds like I skip meals when I'm working, but you taste and taste all day — and trust me, it adds up.
I didn't have time to leave all day, but I did book a reservation at Aldea, where I'll be taking my wife next week.
Wednesday, December 7
I arrived in Adour around 10:30 a.m., and it was a busy day.
On my way home, I stopped at my favorite sushi restaurant, Sushi Seki on First Avenue and 62nd Street, where I had a spicy scallop roll. I then proceeded to head home, where I enjoyed an iced tea with my wife, as well as a beautiful orange and caramel dessert she made.
We ate, relaxed, and admired our tree.