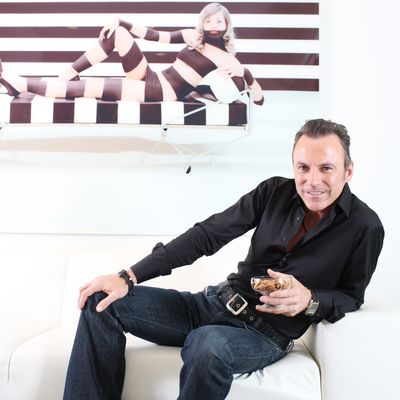 Colin strikes a pose at his snazzy office in Soho.
Event designer and "lifestyle authority" Colin Cowie wants you to know that he's a very busy man. Just this week, he hosted a sale on the home design flash site One Kings Lane, orchestrated a high roller's birthday bash in Vegas, filmed his HSN segments, and planned a couple of million-dollar weddings. All of this without a drop of caffeine, barely any carbs, a visit from Lizzie Grubman, and a lot of Barry's Bootcamp. Read about his healthy habits and trendy friends in this week's New York Diet.

Friday, December 9
I absolutely love what I do, and this weekend I was in Vegas staying at the Cosmopolitan Hotel doing an amazing birthday party for a client. Breakfast was room service with poached eggs, toast, and fruit. During the week from Monday to Friday, from sunrise to sunset, I only drink water. No tea or coffee. I have a food routine that has kept me at the exact same weight for 26 years.
After a morning of party prep, I took a quick break for lunch, which was beef sliders and a couple of Avión tequilas on the rocks — I mean, it is Friday and we are in Vegas, after all!
For dinner, I went to Twist Restaurant at the Mandarin with a group of friends. I had poached scallop and langoustine salad, a Nebraska dry-aged New York sirloin steak with Bordelaise sauce, steamed vegetables, and skipped dessert. After dinner we headed over to the Mandalay Bay to see the new Michael Jackson show from Cirque du Soleil. My friends shared many bottles of Dom Pérignon. After the show it was a late night of dancing and the Cristal Champagne flowed endlessly at Xcess Nightclub.
Saturday, December 10
I started my day bright and early with a delicious breakfast delivered right to my room — poached eggs, sausage, and wheat toast — just what I needed to get going.
For lunch, I wanted to do something light as I knew I had a big night ahead, so I had a bowl of fresh fruit while I was doing prep for the birthday party that evening. The party that night was pretty spectacular.
Dinner was catered by STK. We started the party with an hour or so of cocktails, then we sat down to a delicious dinner of caviar canapés, crab legs, poached shrimp, oysters, crab salad, dover sole meunière, and lots of Dom Pérignon to wash it all down. Again I skipped dessert — had to hold back somewhere. After dinner we headed downstairs to Marquee and it was another late night of dancing and endless bottles of Cristal!
Sunday, December 11
Slept in a bit and ordered room service again — poached eggs and fresh fruit.
Lunch was on the patio of Todd English's Olives at the Bellagio Hotel. Todd is a dear friend of mine, and no trip to Vegas is complete without a stop at one of his restaurants. For lunch, we split flatbread pizza, grilled octopus, two pasta dishes, and two bottles of delicious red wine between four of us.
I wanted to take it easy that night and decided to eat dinner in the hotel. I love Scarpetta, and you can never go wrong with their world-famous tomato-basil spaghetti. I skipped cocktails and dessert and was in bed early. The next day was a big travel day, and there's nothing worse than sitting on a plane all day and feeling full.
Monday, December 12
Breakfast was on the go at the airport — I grabbed an egg and bacon muffin, without the top piece of the muffin. I watch my carb intake during the week and usually only eat brown bread, brown rice, whole-wheat pasta, no potatoes.
Once I got settled in my usual seat on Delta — 2A — I logged onto GoGo in-flight Internet service. But before I dove into about 120 new e-mails, I was excited to log onto One Kings Lane to check out my Holiday Tastemaker Sale.
I was flying first class, so lunch was a simple salad on the plane — no bread and lots and lots of water.
After landing I headed home, then I went downtown to meet Todd English and friends for dinner at Locanda Verde. I love the vibe there, and you never know who you might bump into. I had the codfish with olives and fennel for dinner — it was delicious.
Tuesday, December 13
I started my day bright and early with an 8 a.m. class at Barry's Bootcamp for a fabulous one-hour intensive workout. It really is the best way to start my day; I go a few times a week. Breakfast was poached eggs with yogurt butter, coconut water, and blueberry juice.
I brought my lunch from home to the office, courtesy of my housekeeper, Gertrude, who has worked for me for the past eighteen years. Her cooking is better than any restaurant in New York: homemade turkey chili with low-fat Cheddar cheese, which I ate at my desk while going over e-mails.
Dinner that night was at home again. Gertrude made Tuscan bean soup and a big fresh green salad topped with goat cheese, and whole-wheat bread. I love to entertain at home. Tonight I had my dear friend Lizzie Grubman and her partner, Sabrina Levine, over for cocktails.
Wednesday, December 14
Headed to Rockefeller Plaza for my Today show segment on edible holiday centerpieces. I was knee-deep in gingerbread houses, strawberry topiaries, and sugared fruit.
Back at my office I was starving, so for breakfast I ordered a whole-wheat egg and turkey bacon wrap sandwich from my favorite local market, Café Duke.
I sneaked in a quick lunch with a friend at one of my favorite spots — Mercer Kitchen. I ordered the black truffle pizza with steamed artichoke. Then it was back to the office for an intense three-hour afternoon planning meeting with the creative director of my new website.
After work, I ran out to get a haircut, then headed to dinner at "The Café at 15 Central Park West." I enjoyed crab cakes, Caesar salad, and beef bourguignon with a bottle of red wine. After dinner it was back home to get some sleep before getting up and doing it all over again tomorrow.