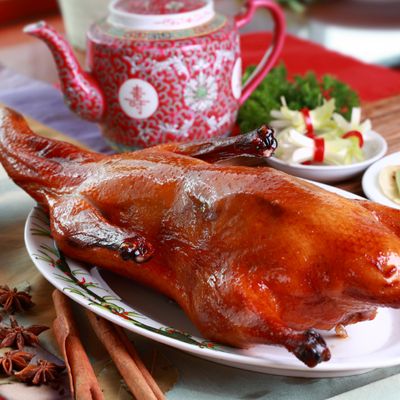 Christmastime in New York: the Rockefeller Center tree lighting, Santa at Macy's, department store window displays, and … Chinese food — especially if you're Jewish and December 25 is just another day for you. For many a New Yorker, Christmas feasting doesn't mean turkey or prime rib; it's all about digging into some Peking duck and beef lo mein. And lately, some nontraditional and high-end restaurants have gotten into the spirit. In fact, most of these places are so good that even if you do celebrate a traditional Christmas, you might consider changing your plans this year.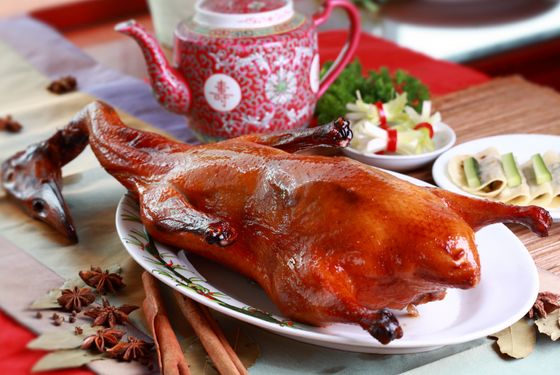 Chin Chin
This popular midtown restaurant will be open during their regular hours and serving their normal menu, with dishes including five-spice aromatic beef ($11.50), tea-smoked duck ($19.50), and Mongolian shredded pork ($18.50).
Fatty Crab
Both Fatty Crab locations will be paying "homage to an age-old NYC tradition of enjoying Chinese food on Christmas," with dishes like pork steamed buns ($13), wonton soup ($19), and General Tso's chicken on their special Christmas Eve and Christmas Day menu. The restaurant will be open during their regular hours.
JoeDoe
Joe Dobias's more upscale venue will be serving a Christmas Eve brunch from 11 a.m. to 4 p.m. that includes shoulder bacon egg foo young ($15). It will be closed on Christmas Day.
JoeDough
The recently opened sandwich shop will have a special General Tso's Chicken Sandwich with sweet chili sauce, broccoli, and peanuts ($13) available on Christmas Eve for those hankering for the cuisine a little early. They'll be open from noon to 4 p.m. that day and closed on Christmas.
Mile End
For the second year now, the Quebecois are celebrating the "traditional Jewish Christmas" their way with Montreal-deli-inflected Chinese dishes. They'll be open on both Christmas Eve and Christmas Day, offering a $50 prix fixe that includes Szechuan pickles, beef noodle hot pot, smoked trout Rangoon, smoked meat sesame bun, and Peking duck, among other dishes. They'll have seatings on Christmas Eve at 7 p.m. and 9 p.m., and on Christmas Day at noon, 2 p.m., 4 p.m., 6 p.m., and 8 p.m. Though we've learned they're already mostly booked, the restaurant tells us they plan to continue these Chinese feasts once a month as we head into 2012. For reservations, call 646-494-9508.
RedFarm
The buzzed-about Chinese restaurant will be open on Christmas and Christmas Eve serving their regular à la carte menu as well as a few special items from chef Joe Ng, who has "a few tricks up his sleeve," Ng's partner and Chinese food connoisseur Ed Schoenfeld tells us. Expect items that lean toward Christmas-inspired fare like duck and chestnuts with crispy mashed potatoes and cranberry plum sauce, as well as grilled Creekstone rib eye steak. Regal Chinese dishes will also grace the menu, such as spare ribs braised with red wine lees (a traditional Chinese sauce made from wine sediments), seared salmon with mushroom rice, and curried oxtail.
Shun Lee West
This Grand Dame of New York Chinese restaurants will be open on Christmas — its busiest day of the year, they tell us. Be sure to make reservations ahead of time to enjoy their orange beef ($26.95), spare ribs ($13.95), and wonton soup ($12.95).
Traif
The tongue-in-cheek (or maybe we should say "tongue to cheek") Williamsburg hot spot will be steaming and stir-frying from December 22 through December 24 (closed Christmas Day). Chef Jason Marcus (who has traveled extensively throughout Asia and, prior to Traif, helmed two Asian restaurants in California) will prepare a menu that features dim sum selections such as Berkshire pork potstickers and cold black sesame noodles with bacon confit; mains include foie gras fried rice with chicken skin, sunny egg and cranberries, black-pepper-caramel pork belly with scallops, long beans and baby corn, and roast cashew-garlic rabbit with Chinese celery and sweet pepper. Dishes will range from $7 to $19.
Woks and Lox
On Christmas Eve at the Queens Kickshaw in Astoria, dinner (from 5 to 9 p.m.) will feature Jewish-Chinese fusion like shiitake-ginger matzo-ball soup, potato and scallion wonton pierogies, and ginger sriracha wok-fried bagel strips; entertainment includes a Chinese auction, Mah Jong, a "Bar Mitzvah-esque sign-in board," and liquid courage courtesy of He'Brew and Queens Kickshaw's bartenders who will be whipping up drinks like the "Double Happy Five Spice Hot Mulled Manischewitz." Tickets run from $28 to $59 and can be purchased here.