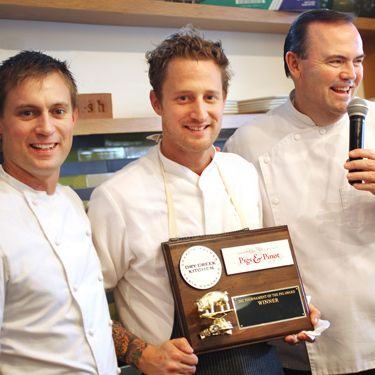 The Voltaggio Brothers with Palmer at last year's event.
If you've always dreamed of meeting Guy Fieri in flavor town, now's your chance! The lineup for Charlie Palmer's 7th annual Pigs & Pinot weekend has just been announced and the Food Network All-Star made the top billing. Fieri will join Palmer, Michael Mina, Casey Thompson of Top Chef fame, and Michael White of NYC's Marea, on Friday, March 23 and Saturday, March 24, 2012 at the Hotel Healdsburg. The event, which could foreshadow what to expect at Palmer's chef-driven takeover of the Crescent Hotel, features several walk-around tastings, seminars, competitions, and a of course, a special gala dinner at Dry Creek Kitchen.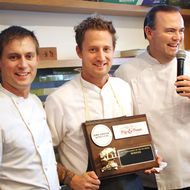 For those who want to attend the party and stay at the hotel, note that you've got to enter a special lottery. There's a limited number of weekend packages available, so recipients of the lodging and event packages will be selected at random. To enter, you must submit an application between Thursday, January 5th and Thursday, January 12, 2012. Single event tickets go on sale Friday, January 20th.
Earlier: What You Missed at Pigs & Pinot in Healdsburg ('11) [Grub Street]