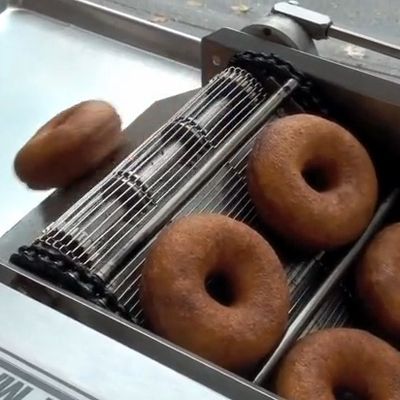 …And that's when the doughnut-making robots first became self-aware.
From its Facebook updates, 606 R&D;, an anticipated 30-seat restaurant and mini-market set to open in Prospect Heights, looks pretty much good to go. According to owners Ilene Rosen and Sara Weeks Dima, however, one crucial piece of the puzzle is missing: doughnuts. And they've accordingly turned to Kickstarter to make this happen.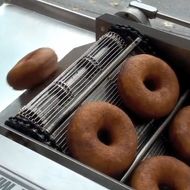 Inspired by Dreesen's in East Hampton, 606 R&D; seeks to install a pretty nifty, self-contained doughnut robot! Each one of these Hugo-worthy bad boys bestows a perfect ringlet of raw batter into a warm, soothing Euphrates of vegetable oil; midway through its fryer journey, each doughnut is drop-kicked by a paddle, browned on the other side, and conveyor-belted toward cinnamon-sugar greatness. Incentives for potential doughnut dream-makers who donate include things like carbo-loaded garden parties and commemorative coffee mugs. Not to mention glory. Oh, the glory!.
Bring Donuts by the Dozen to Brooklyn's 606 R&D; [Kickstarter]
Earlier:Brooklyn Bound [NYM]