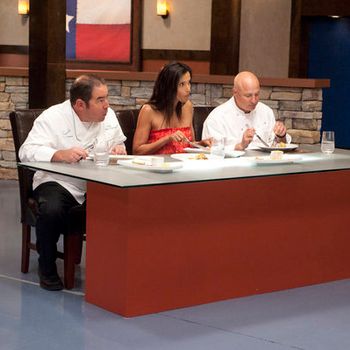 There will be a LOT more of this.
Last night's Top Chef immediately kicked off in The Bubble, as a friendly reminder that the competition hasn't even really started yet. Group Three then entered the kitchen and forced us to come up with even weirder tricks than last week to remember who everyone was. (Highlights from our notes: "Chaz has a crush on Padma and we have to DEAL WITH IT"; "Beverly has a really cute fat baby"; "Bernice … makes me think of 'Crazy Old Maurice' since Beauty and the Beast was on last weekend.") The producers were kind enough to make up for this cluster…fudge of people by actually giving us another decent twist: Only after the chefs fought over normal ingredients did they find out that they'd only have 20, 40, or 60 minutes to cook what they chose.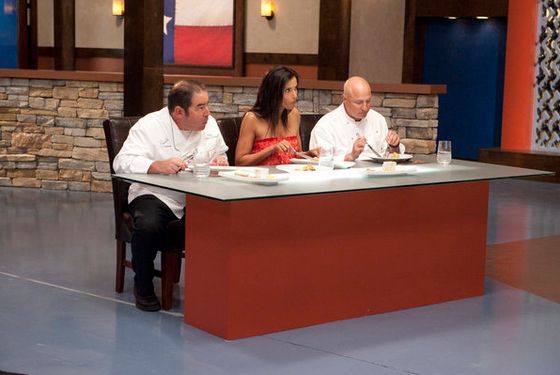 Less-jolly-looking Yukon Cornelius was very concerned about only having twenty minutes to cook mushrooms, while Redhead Ashley decided to use her full hour to try cooking her oxtail in a pressure cooker, despite not being familiar with the technique. Has there ever been a time on this show when trying out something new in the heat of the moment has worked? You should probably save that for the Quickfires, kids. Meanwhile, Padma-lover Chaz made some weird comment about how this situation was like being a Navy Seal versus being a G.I. Joe, because that is an excellent metaphor for cooking. Tom Colicchio doppelgänger Laurent also taught us a really interesting lesson this episode: If you grow up in France, you can become a cook, a priest, or an army guy. That's it, guys — just un, deux, trois jobs in France. No wonder they're always striking.
Because being in the last group is the worst, only three chefs got a coat: From-Austin Paul (he made trout), Sad-faced Lindsay (veal over polenta), and Cute-baby-haver Beverly (Korean-style octopus). Yukon Andrew and Laurent got the joy of going to the Bubble, while all the chefs at the house discussed how terrible it would be to have to cook again. We'd hate to be the ones to break it to them how Top Chef works.
Over in the Bubble, which finally got dealt with and did not get drawn out to a third episode, the six chefs were allowed to use any ingredients to make a dish that proved why they should stay. Janine did math for some reason and informed us that this meant everyone had a 33 percent chance of staying, while Cruiseship-chef Molly complained that this challenge was too hard. This challenge where the chefs were allowed to cook to their strengths.
This segment of the show gave us some other interesting insights into the cheftestants. Grayson Schmitz (whom we want to either call Schmitzel or Schmutz, please advise in the comments), for example, shared that when she was 15 years old all she wanted to do was drink, while Edward wanted to prove that you don't need to be in New York to cook good food, an odd sentiment considering this season features hardly any NYC chefs and about 87 from Chicago. He then sliced his hand open and filled some rubber gloves with blood, which was a delight to see.
The Bubble dishes were almost entirely seafood with the exception of Ed: stuffed prawns with soy-glazed watermelon from cruise chef Molly, seared scallops with watermelon from Janine, bacon-wrapped shrimp with figs from Schmitzel, scallops two ways from Laurent, mussels from Yukon Andrew, and duck with barbecue sauce (or is that blood?) from Ed. The judges dragged this judges' table out for fifteen minutes, as they are wont to do. This was incredibly boring at this stage in the competition where we only know people's names because they flash them on the screen every time. We know this is the "biggest season ever" because Texas, but this was a pretty boring way to kick things off. Anyway, Ed and Schmutz got coats (and Ed got a fixed hand), as well as warm greetings by Black Hagrid when they arrived at the house, because he is Hagrid.
This season: The chefs go all over Texas (three cities)! Padma makes a Snakes on a Plane joke! More people bleed all over the place! People cry in cowboy hats! We get reminded that this is the biggest season ever approximately 200 more times! There will also be online episodes where chefs that got kicked off get to come back, because apparently biggest season ever means even more episodes!