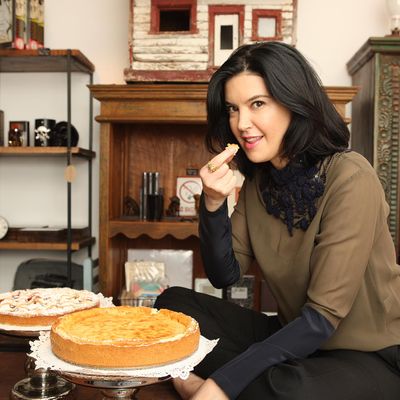 Cates digs into a cheesecake from Pepolino at her shop, the Blue Tree.
Photo: Melissa Hom
Though Phoebe Cates is probably best known for her roles in classic eighties movies like Fast Times at Ridgemont High and Gremlins, she's actually spent the last six years running the Blue Tree boutique on the Upper East Side, selling everything from dark chocolate to diamonds. The store isn't food specific, necessarily, but Cates admits that she has "so many customers that love food." As for her own taste in food, Cates tell us, "I'm pretty erratic when it comes to anything other than my coffee," though she says she cooks for her family — husband Kevin Kline and their two children — about three times a week. Of course, the Cates-Klines are also longtime regulars at a few UES restaurants, including Elio's, where Cates says servers know her family's orders by heart. "It's pretty neighborhoody up here," Cates says of the hood where she lives, works, and eats. Read about it for yourself in this week's Grub Street Diet.
Friday, November 4
I arrived in Los Angeles the night before for a family gathering. At 10 a.m. I was determined to eat a hefty breakfast (unlike my NYC routine), because I wasn't going to get a chance to eat again until late in the day. So when the waitress arrived, I chose the eggs Benedict with all the trimmings. The Hollandaise sauce was perfection, the asparagus made me feel less guilty, and I tried chutney for the very first time in my life — which was so seriously good that I was not shy to ask the waitress to explain what it is: currants and sweet onion, a few mustard seeds. I have joined the Chutney Club. My usual morning double espresso with some half-and-half, and I was good to go.
By 5:30 p.m., I was with my family trying a mini hors d'oeuvres-size pizza — and a glass of red wine. At 10 p.m. — and in California, that's really, really late — it was unanimous: We all went to Junior's. The fifteen of us practically bombarded the place. Before the whole family was even seated, I had inhaled five pickles. A forkful of sauerkraut, and I was ready for my main. I ordered grilled cheese on whole-wheat bread — don't ask me what I was thinking. And some fries. Needless to say, the whole wheat killed the whole grilled-cheese idea, so after a couple of fries, my cousin David kindly shared his matzo brei with onions. And strawberry preserves.

Saturday, November 5
I arrived at LAX at 6:05 a.m. I didn't bother with the civilized offer from The Four Seasons to pack me an "airport breakfast" the night before, because I assumed I'd grab a coffee and something at the airport. Terminal 3 offered (I kid you not) Gladstone's (the fish place) and Burger King. Take a guess. A Crossisan'wich later ("hold the ham"), there was a special place in my heart for the hash-brown nuggets on the side. Burger King didn't have an espresso machine, but the coffee with five of those little plastic pails of half-and-half creamer hits the spot.
Three or so hours into the flight west-to-east, my sister and I were scrounging through her carry-on for two special sandwiches that she made for the east-to-west leg that we never ate. The smart girl bagged them, put them in our hotel room's mini-fridge overnight. She had made PB&J; on sprouted (Ezekiel) bread; I ate half on the flight, ordered a Diet Coke, and have JetBlue to thank now for my new fascination with the snack called "Popcorners." It's half popcorn, half chip. I am happily confused.
Home and weary, my husband insisted on making me a dish he likes to call, "Kline Aglio e olio." Here is the recipe. Oh, and you must serve it with dramatic flair. And a little arugula salad on the side. A little later, true to my routine, I grabbed three Whole Foods–brand red berry licorice sticks.

Sunday, November 6
Double espresso with half-and-half, but you know this by now. Forgot to have breakfast, so around noon had some of my favorite cheese: d'affinois on raisin nut crisps from Eli's. For fifteen years, we have been having Sunday night dinner at Elio's as a family. Elio's is my constant; this is my sanctuary of sanity. Joe is our waiter and friend. We eat early at the same round table towards the front. Without a word, the following drinks are placed in front of us: Kevin's gin martini magically appears. My dirty vodka martini with extra olives arrives and shimmers for me. Greta [age 17]? Milk. And Owen [age 20] has two glasses lined up already of homemade lemonade. And our regimen doesn't stop at drinks. Joe pretty much knows that we'll eat the same things, too. Sliced steak or steak au poivre for me and Kevin. My purist, Greta, will have penne with tomato sauce. [For] my son, his baby manila clams. I glanced around the room and notice so many familiar families. We're not the only ones who started with high-chairs and flying bread pieces and crumbs. There are others who grew up here. The food is so good, and the service is impeccable.

Monday, November 7
The usual morning espresso and cream. Now you know what to make for me. I was late to work and never got a chance to get my oatmeal with brown sugar and milk from Yura. When I got to the store, I popped a few chocolate-covered hazelnut truffles from the counter display.
Lunch at my home away from home, Sfoglia. The perfect place to review the new website designs with Ivana Callahan, my friend, store manager, and Italian sister. I knew that this was going to be a two-times Sfoglia day, so I tried to order on the "light" side: calamarata with squid and cranberry beans. Calamarata is a pasta that looks just like squid, and then there's squid too. Both tender, I can barely tell the difference between them, once I take a bite. For the table, I relied on [general manager] Adrien Martin's guidance and ordered the trio of roasted cabbage dressed with a date vinaigrette, topped with crispy bits of cabbage and shaved ricotta salata. Colorful and delicious.
This evening, Kevin and I were dining with our dear friends, Ron and Iva Rifkin — and, as I knew I would be, we were at Sfoglia. I couldn't pretend that I wasn't here just hours before, so I confessed to our guests and my waitress. That magical Sfoglia bread arrived sliced and warm with olive oil in a small dish for dipping. I could see chef John Carr out of the corner of my eye, and he sent out a dish of mussels for the table. Naturally, I have seen mussels before, but I had never dared to eat them. I was feeling adventurous, and I tried them. I dig mussels. I couldn't resist a bite of Iva's chicken al mattone (chicken cooked under a brick). Lemony, crispy perfection.


Tuesday, November 8
Breakfast today? You guessed it. It was hot and a double. I added a little Coffee Mate (French vanilla).

I barely had time for a proper lunch since I was having a home-visit from our vet. Sfoglia bread toasted with some Blenheim Apricot SQRIL preserve. SQRIL's Jessica was here visiting not too long ago and came to the store for sampling. I loved the ingredients and her packaging, and ordered up some jars of a flavor that will be just for Blue Tree alone.

The Tuesday-night dinner is a tradition that I started with my goddaughter, Ava, and we call it "Chat n' Chew." My breaded chicken scaloppini rocks! Sorry, I can't give away the recipe. But it starts with the best chicken cuts in town — from Lobel's. Greta and Ava were in charge of making the pasta for accompaniment, tossing chopped tomatoes, garlic, chopped avocado, and three cheeses: ricotta, mozzarella and Parmesan. Ivana was in charge of the salad, which is all about the dressing. Sorry, another recipe I can't give away, but I'll give you a hint: It has both lemon juice and balsamic vinegar. The best compliment I received about my Chat n' Chew Chicken Breasts is from Ivana. She swears each time she eats them, that they taste "just like the cotoletta alla Milanese taste in Italy."

Later, it was a three red berry licorice kind of night.

Wednesday, November 9
Breakfast today was a little biscotti dipped in yep, you guessed it …

Shake Shack lunch for the all of the Blue Tree gang. I went all out and had the Shack Stack and crinkle fries. It's so distracting that Ivana stuck a note on our front door that said, "Store closed for fifteen minutes." (We had to focus on our grub.) Late afternoon, my handsome and funny friend Enzo (owner of Pepolino restaurant, the only other Italian restaurant that I frequent) brought me homemade ricotta cheesecake and an extra treat of a new pie: blackberry, black cherry, and caramelized orange zest.

My close friend Jennifer Jason Leigh was staying with me for a few days and it is always fun, hectic, warm, and cozy. That night, I made my favorite recipe from Union Square Cafe, their ginger-mustard-glazed Yellowfin Tuna burgers. The glaze is Teriyaki sauce, minced garlic and minced ginger, honey, and Dijon mustard. But it's the pink pickled Japanese ginger on top that seals the deal. I blanched sugar snap peas and toss them with black sesame seeds and dark sesame oil — thank you, Ina Garten. [The night before] I was the Barefoot Contessa, spending a good half an hour de-stringing the sugar snaps. My wine friend/expert, Andy from K&D;, chose my wine when I called him and told him my menu. Andy said, "Phoebala, I'm sending you a bottle of Carbonnieux Graves (white) and the Burgundy Mongeard Vosne Romanee."