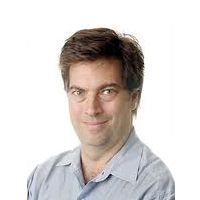 Wells' official NYT headshot.
According to several tweets, and reliable Grub Street sources the New York Times has announced internally (Update: and now externally as well) that Pete Wells will be the Gray Lady's new restaurant critic. Susan Edgerley is replacing him as the paper's dining editor.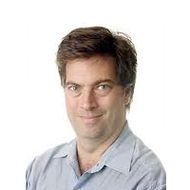 Update: Media Decoder has the full announcement and memo, which mentions that Wells will officially take the new job in January. It reads, in part:
Pete Wells will be our new restaurant critic. No one could be better prepared or respected for his superb writing, intimate knowledge of food and restaurants and deep commitment to our dining franchise. Pete has been Dining Editor since 2006. He has stepped in as acting critic himself — writing a half-dozen well-received columns in the interim between the Bruni and Sifton eras.

[…]

Of the many top-notch candidates to take Pete's place, Susan Edgerley stood out for her eagerness, enthusiasm and managerial skills. She says she sees the job as 100-proof joy. She is a passionate cook and avid reader of cookbooks, as well as blogs, magazines and memoirs about food. She is an intrepid restaurant diner, and a viewer of an assortment of food shows. She has been known to sip her share of wine and spirits. And she is not embarrassed to admit that she choked up when Julia Child died.

Susan has done it all since she joined the Times in 1989 as a copy editor on Metro: AME for career development, training and print-web integration. Metro Editor. Editor of the NYT News Service. And, most recently, strategic adviser to Jill, helping her live up to her promise to get around the newsroom.
Update: Media Decoder has the full announcement and memo, which mentions that Wells will officially take the new job in January. It reads, in part: