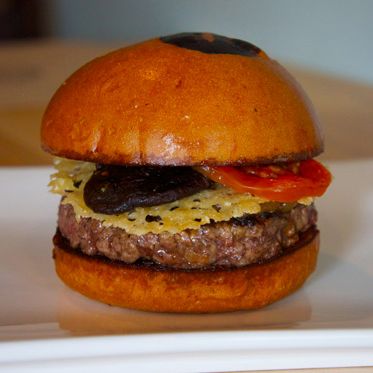 Kauffman digs the signature Umami Burger at Umami Burger, but he kind of misses the mustard, pickles, and lettuce too.
Noting that a couple of new and swiftly growing fast-casual chains, The Melt and Umami Burger, "may be sidestepping the foodista loathing for processed food" by presenting their food in hip and upscale ways, Jonathan Kauffman pens a joint review of the two places this week.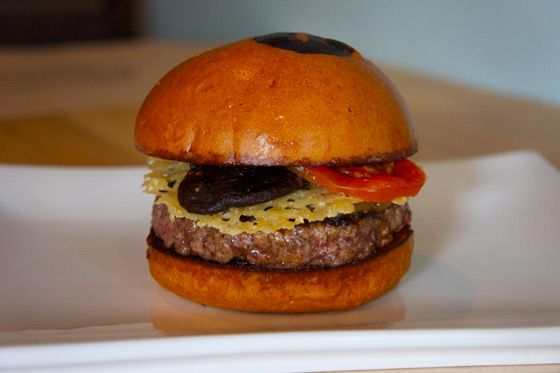 Both restaurants debuted in San Francisco in recent weeks, and as he notes on the blog today, both "openly, eagerly tout their technological sophistication at the same time as they promise fresher, more wholesome ingredients." But as for the quality of their showcase items, he's not wholly impressed. Of the Melt's sandwiches he says, "It's a grilled cheese, all right, but a sterile one," and he recommends adding tomato and bacon which are free — or rather included in the $6 flat price.
At Umami Burger, he finds "the city's most attractive burger restaurant," and burgers that are plenty "fatty enough to ooze juice until the last bite." He especially likes the port-Stilton burger and the Earth burger, both rich in umami goodness. But for his money, he says he'd almost rather chow down on Serpentine's, Zuni's, or Heirloom Café's burgers, given the pricetag at Umami. He says to avoid all the side dishes, which are "awful," except for the skinny fries. Also, "I missed the contrasting elements that help make these less-engineered burgers so good: the watery crunch of fresh lettuce, the acidic flash of pickles, the bite of mustard — none of which were available. Science produces a good burger, but a cook makes it great." [SF Weekly, SFoodie, Earlier slideshow]