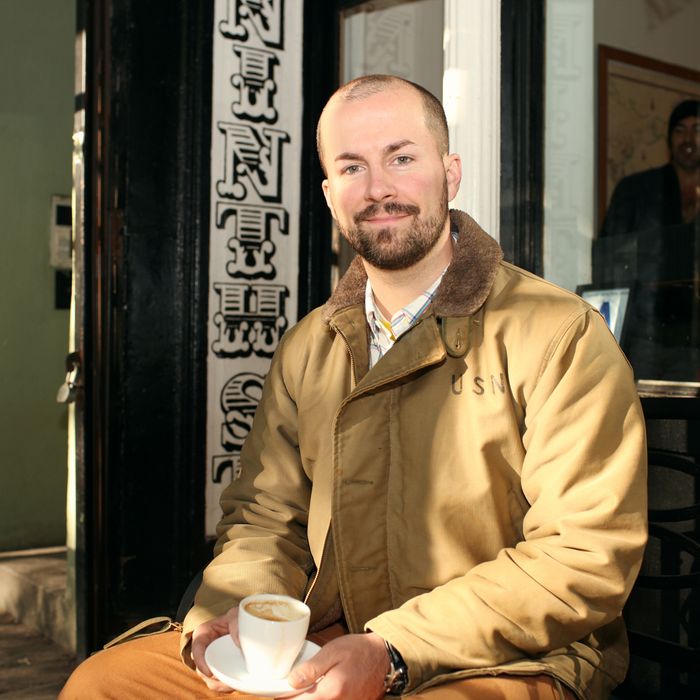 Meehan, waking up at Ninth Street Espresso.
When we spoke to PDT owner Jim Meehan yesterday morning, he sounded awfully chipper considering the book party for his just-released The PDT Cocktail Book had happened the night before. We'll have to chalk it up to his morning cappuccino and green-juice habit: "I guess I spend my days trying to drink juice and cleanse, and I spent my night going out and eating meat and drinking cocktails," Meehan told us. This week, a favorite "guilty pleasure," Amstel Light, unexpectedly headlined the mixologist's drinking agenda, along with a dozen (or two, we lost count) high-end cocktails from bars around town. Of course, Meehan confessed that he tried to have "an impressive week" just for your reading pleasure. See how well he succeeded, straight ahead in the Grub Street Diet.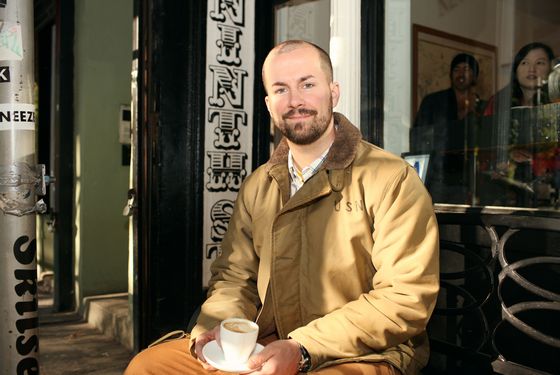 Friday, October 28
I go to Ninth Street Espresso every day that I'm in New York City. I've been doing this for over nine years now. I live on Avenue B, so lately I've been going to the 10th Street location. Nine a.m. Friday, the dog and I went for a little walk. I got a cappuccino.
It was such a nice day, we went to Liquiteria. Cappuccino in the morning, then I get the get the all-greens with apple and then their oatmeal at Liquiteria. It was [Mayahuel owner] Phil Ward's birthday, so his girlfriend asked me to get a reservation at Momofuku for fried chicken. It was great — there were eight of us; it was kind of all just great bartenders and friends. They sent out Brussels sprouts, potatoes, the beet salad. They ordered the pork buns and then we also got shiitake buns. I requested the brisket buns, 'cause they're amazing. Everyone was drinking beer and I was drinking sparkling water because I had some more stuff to do that day.
My ritual usually includes, either on my way home from Liquiteria or sometime early afternoon like twelve to one, I'll come by the bar and do a walk-through. There are little things that can get broken during the course of the night. That day I rushed over, and I was at the bar until right before it opened. Normally before I get in I have a little club soda. We put a new Merlot on the menu, Shinn Estate — since we opened, we've only poured local wines. So I tried a little taste of that. And one of my bartenders created a variation on the Blackthorn cocktail called the Whitethorn; had a little taste of that to make sure it was good.
My routine is typically to go back to Ninth Street Espresso for an evening coffee. So I went to Ninth Street, got a cappuccino, then went home. I was in France for four days and I got back Thursday night, so I did not go out Friday night. It was Game 7 of the World Series and I ordered in Chinese from Grand Sichuan on St. Marks. My typical order from them is curry chicken with bok choy. I did enjoy three Amstel Lights during the course of Game 7. Amstel Light is my somewhat well-publicized guilty pleasure. My wife came home around midnight — she's the general manager at Market Table — and we watched an episode of Prime Suspect and I had a glass of Palo Cortado VORS sherry.
Saturday, October 29
Cappuccino at eleven. Oatmeal and all-greens with apple around one. Any New Yorker knows better than to go near Soho on Saturday, but I wound up walking around. Whenever I'm in Soho, I always end up over at Grandaisy. I had the bresaola sandwich with a Pellegrino Aranciata.
I also got a slice of pizza bianco, which I brought over to the bar and shared with my staff around five. Jonathan Forrester, who is a writer and distiller, has been working on a peach brandy. It's an ingredient that's sort of been lost. I tasted that and we tried it in the Fish House Punch. One of my other bartenders wanted me to taste a couple of cocktails. One is called the Pumpkin Pie; it was insane.
I scooted out, went over to Ninth Street at six o'clock and had a macchiato. Saturday happened to be my brother Peter's birthday, so I went over to his apartment. Normally [he and his wife] cook, but Saturday was pouring all day, so they couldn't get out to the market to do the shopping. They ended up ordering barbecue from Daisy May's. They had chicken, brisket, ribs, coleslaw, corn bread, and I brought over a bottle of Hitachino white ale beer. I also brought over a bottle of that sherry. And I brought over a bottle of Nonino Amaro, because I knew we would need something to help us digest. Christina Tosi came over with her boyfriend, Josh, around nine-thirty and brought a cake. I went home and did not drink anymore that night.
Sunday, October 30
10 a.m. cappuccino; 11:30 a.m., all-greens, apple, and oatmeal. I was out doing errands and ended up stopping by Whole Foods — I know it's not good, but I end up getting the tuna-avocado rolls with brown rice. I sat upstairs.
Four o'clock, Ninth Street Espresso macchiato. Five o'clock, got home. Normally I like to watch a little football on weekends, so I turned on the TV and had an Amstel Light and a Sierra Nevada. That evening, my partner on the book, [illustrator] Chris Gall, got in town with his wife, Ann. Ann has never done the cocktail circuit, so that's when the heavy drinking of my week began.
We ended up going to Mayahuel first, which is one of my favorite bars, especially when I want something to eat. I know we had the tacos, the chicken, and the pork. We had this special they were doing, this beef empanada, which was amazing. We had chips and salsa and guacamole. My wife and I started with micheladas. My second cocktail was a drink called Carlotta's Reign. My mom's name is Carlotta, so I was quite amused. We all did a shot of mezcal. I had a little espadin, which is the most widely planted agave in Oaxaca.
Then we headed over to Little Branch. We sat down. I ordered a gin drink; it had egg white and a little citrus. My wife ordered a mint julep, which was delicious and I kind of drank half of that. From there we went to Employees Only. I wanted Chris to see a whole different style of bars. I wanted him to see what cocktails in New York were all about. Sunday night around eleven o'clock and it was rammed. I saw a bunch of friends in there. I did a quick shot of Fernet and then had to take everybody out of there; it was a little too busy for us to get a drink.
From there we went to Pegu Club. As you know, I opened Pegu, and every time I come back it's always amazing. As I said, I was just in France; I was in Chartreuse to visit the distillery. I asked for a Chartreuse drink and [the bartender] made me a cocktail called the Diamondback. It's one of the most robust cocktails ever created, which is probably why it's named after a snake. That was my last drink.
Monday, October 31
9:30 a.m. cappuccino; one o'clock greens, apple and oatmeal. Three o'clock: There's a place called the Juice Press. I got the avocado toast sandwich. Six o'clock cappuccino. We were supposed to meet Chris Gall and his wife out. Our plan was to take dinner at Market Table; we had a 7:30 p.m. reservation and we couldn't get in because of the parade; Sixth Avenue was totally closed off. We had to tell them to go without us.
We were in the neighborhood, so I said why don't we just go to Blue Hill? Dan Barber comes by PDT sometimes. They said can we cook for you, and we said sure. They did a two-hour tasting menu, paired wine; it was insane. Blue Hill has a company that makes soda especially for them. I had a Banks rum drink with apple and ginger soda, and a bunch of wine.
From there we all went to PDT. We ordered French fries with cheese and jalapeño sauce. I had a Witch's Kiss cocktail, which I actually created. It's a tequila cocktaiI. I chased my Witch's Kiss with some Del Maguey Minero mezcal. Then we went home and my wife passed out and I watched an episode of Boardwalk Empire and had a Sierra Nevada pale ale.
Tuesday, November 1
10:30 a.m. cappuccino. I think I was writing all day, getting presentations ready for the book party, so I didn't have time to go get my oatmeal and my all-greens with apple. I just had a little bit of granola at noon. And then at 2:30 p.m. I ended up having my cappuccino. And then at 6 p.m. I went to the juice press and got a sandwich. I had this juice that has kale and coconut and a whole bunch of healthy stuff.
At 8:30 p.m., I made it out to Brad [Thomas Parsons's] Bitters party at the Spuntino in Brooklyn, in the backyard. November 1 was the pub day for his book and my book, so it was fun to celebrate with him. Nate Dumas, a former PDT bartender, was bartending. He made me a brown and stirred cocktail with bitters.
I ended up kind of bailing on the party and going over to Prime Meats. I had some sort of delicious Belgian beer. I had a Negroni. Then I ordered a burger, because I think the Prime Meats burger might just be the greatest I've had in a long time. No one wanted to eat with me. I was with Andrew Knowlton, who lives around the corner. So I ate a burger to go and brought it home to my wife who also loves hamburgers. I had half a hamburger and fries, and a couple of Amstel Lights.
Wednesday, November 2
It was such a blur. I think I got up at 9 a.m. I had a coffee. I went and got oatmeal and juice at Liquiteria. Came home. Basically, I just had to get ready for the book party. Made it down to the bar around 2 p.m. Another coffee from Ninth Street around 3 p.m. Then I headed over to the book party. We served the hot dogs and cocktails. I had half of a Humm Dog, and half a Hummer veggie dog. I was hugging and kissing and saying hello, so I didn't have a cocktail in hand much. I had probably a glass and a half of Champagne. We batched 600 cocktails, and with two cases of Champagne, all the bartenders and people actually drank the party dry. One of my old bartenders got his hands on a bottle of Chivas. From there we went to Swift and I had a pint of Guinness. Gary Regan bought me a shot of Jagermeister, and [another friend] bought me a shot of Irish whiskey. I had a sip; I've learned once you have shots, the night is over.
Then we went to Saxon + Parole. I think I ordered a beer; I don't remember what it was. They poured an Oregon pinot noir. And we all had burgers, with bacon, Cheddar, and egg. We had fries, and they sent out those sort of pate pots they have. We ordered the doughnuts, since we didn't eat enough.
And then we left Saxon + Parole and went to Milk & Honey. I asked for a cocktail with Nonino, so Sam [Ross] made me a Paper Plane. I think it was about 1:30 a.m., and then we all called it a night.