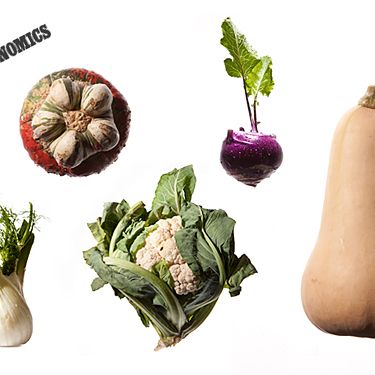 It's true that money doesn't grow on trees, but it might just grow in the ground.
As the farm-to-table movement ramped up, so, too, did the idea of restaurants printing their purveyors' names on menus as some sort of badge of locavore honor. But what began as callouts to Lynnhaven goat cheese or Allan Benton bacon have turned into ever-more-meaningless stamps like "market" and "local." But even as the qualifying terms have become more vague, their ability to increase a restaurant's bottom line has gone up.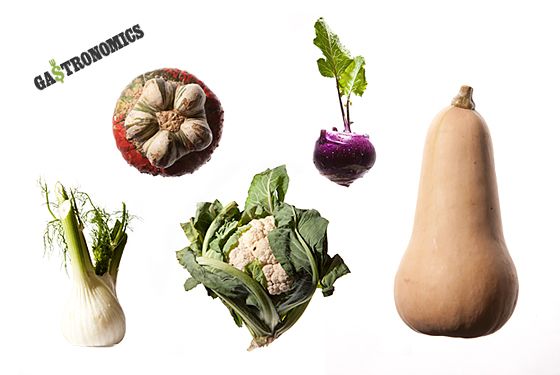 Take this list of six dishes. Three are real dishes; three are satirical. Can you tell the difference?
1. Raw diver scallops, market grapes and lemon verbena
2. Gratinized beet, hazelnut, baby greens and endive salad
3. Free-range rabbit with Oregon morels
4. Celery root risotto with rutabaga, Klug farm grapes, nasturtium, black walnut
5. Market strawberries and juice with mint, lime, meringue, sour cream-poppy seed sorbet
6. Fresh endive soup
The fake dishes — 2, 3, and 6 — are taken from menu recitations in American Psycho, wherein Patrick Bateman gets served the likes of "radicchio with some kind of free-range squid" or "peanut butter soup with smoked duck and mashed squash." (The latter even comes with a verdict from New York Magazine: "a playful but mysterious little dish.")
The real descriptions are from temples of locavorism: The scallop and strawberry descriptions are served at the James Beard winning ABC Kitchen in New York; the celery root risotto is from Lula Cafe in Chicago. But these two restaurants are hardly alone.
What on earth is it supposed to mean, for instance, when Andrew Carmellini puts "local blueberries" on the menu at The Dutch? What's so special about the "City Farm lettuces" being served at Nightwood in Chicago? And when both Freemans and Peels feature something called "Keepsake Farms mixed greens" on their menu, are we supposed to believe that the mixed greens from Keepsake Farms are somehow superior to the mixed greens from anywhere else?
Actually, yes, we are. What we're witnessing when we read menu items like "Cabrillo Brussels sprouts, roasted Pinnacle shallots, County Line chestnuts, aged sherry vinegar, sieved Capay farm egg" (that's from Origen, in Berkeley, by the way) is an attempt to get customers to value — and pay premium dollars for — basic ingredients like Brussels sprouts, shallots, and chestnuts. Mind you, we're not talking about perfect, plump heirloom tomatoes in the middle of August, or super-rare Iberico ham. What are the chances that winter produce like shallots and chestnuts would taste noticeably different if they came from the Safeway down the street? Pretty much nil. But we diners are naturally cowed by the authority of chefs, and willingly suspend our disbelief.
I blame farmers' markets in general, and the Union Square farmers' market in particular, for the way in which this phenomenon is reaching endemic levels in New York. When you see a farm named on a menu, you might never have heard of the supplier in question. But any name next to a listed ingredient is meant to bring to mind those piles of super-expensive veggies, and tales of organic farmers struggling mightily to make ends meet.
The genius of farmers' markets is that they turn thrift into a guilt trip: Anybody looking to pay less money for a pound of carrots must also want to cut the income of hardworking farmers! And when menus name their suppliers, even unto the purveyors of broccoli or scallions, they're effectively trying to make their diners as price-insensitive in the restaurant as they are in the farmers' market.
Artisanal veggies serve another purpose, too: They can cut the amount of money that a restaurant spends on food. Yes, the restaurant might be doubling the amount of money it would otherwise spend on such ingredients. But the fact is that even when they're relatively expensive, carrots and cauliflower are still a lot cheaper than beef and salmon. And if you can get away with building a dish around artisanal turnips, it's one less expensive protein you have to put on your menu. Those Brussels sprouts at Origen cost $9.50, their burger only costs 50 cents more; on the other end of the scale, Thomas Keller's Per Se and French Laundry somewhat famously charge the same amount for their vegetable tasting menus — $295 and $270, respectively — as they do for their lobster- and steak-including chef's tasting menus.
Kitchen costs are centered around two major categories: food costs and labor costs. Often, the more chefs spend on one, the less they have to spend on the other. You can teach a 16-year-old kid to grill expensive steaks (and pay them next to nothing to do it), but you're going to have to find someone skilled, or spend time training them, to turn cheap ingredients like flour and butter into a world-class sauce. The rise of bespoke bok choy represents a lucrative third option: Take inexpensive ingredients, do very little to them, and sell them as premium products worth savoring in their simple purity. (The ne plus ultra of this: The rack of raw vegetables served on spikes as part of the tasting menu, which ranges in price between $108 and $208, at Blue Hill at Stone Barns.)
When you think about it, this can feel like a bit of a scam — why should we suddenly gush over a $10 bowl of lima beans in a restaurant when we'd never do so at home? Is putting the names of suppliers onto the menu a way of making us concentrate more on the ingredients, or a way of getting pretentious about some of the most basic and commonplace foods in the world? It's probably a bit of both. But either way, it's good for the restaurant's bottom line.