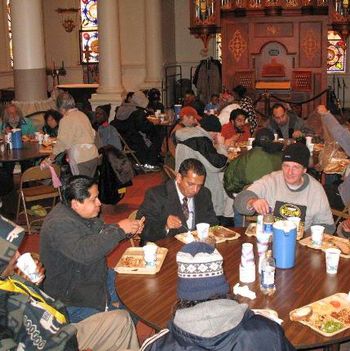 What it will look like tomorrow.
With its state funding slashed by more than 50 percent, Holy Apostles Episcopal church in Chelsea, which runs the city's largest soup kitchen, scrambled to find money to buy enough turkeys to feed some 1,200 hungry people expected for a Thanksgiving feast tomorrow in the church's vast nave. "City Harvest donated 40 turkeys but we needed 60 more and held a fund-raiser" to buy the extra birds, said Yvonne Cassidy, Holy Apostles' social media officer and a volunteer at the soup kitchen. Since 1982, the church has provided more than 7 million meals every weekday from 10:30 a.m. to 12:30 p.m. for hungry guests through a combination of grants, private donations, and funds from the New York State Hunger Prevention and Nutrition Assistance program. But these days, its ability to help is in jeopardy.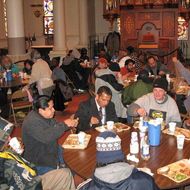 Cassidy told us that the hunger prevention program cut funding for Holy Apostles' soup kitchen from $330,000 to $150,000 a year this summer, resulting in more "vegetarian meals" and fewer cups of coffee "as a way to stretch a dollar." She said Michael Ottley, the church's director of operations, and other staff members traveled to Albany a couple of weeks ago, asking state officials to restore the original funding "but got nowhere," she said. "They were told there were [budget] cuts across the board."
Meanwhile, New York City's Coalition Against Hunger held a morning press conference yesterday at Holy Apostles to announce its annual report on hunger based on an analysis of data from the U.S. Department of Agriculture. The report states that some 500,000 children in New York live in families that can't afford to buy an adequate supply of food. A separate study included in the report showed that even as the demand at city food pantries and soup kitchens grew by 12 percent this year, nearly 50 emergency feeding programs have closed their doors — owing in part to "government cutbacks and decreases in private donations."
So Happy Thanksgiving — if you can afford the price tag. And if you've got extra dough, Holy Apostles will take your donations here.