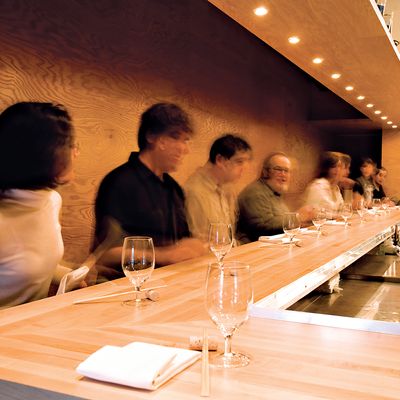 The space that is now Momofuku Ko quite literally evolved out of a noodle shop.
Photo: Noah Kalina / Courtesy of Momofuku Ko
It used to be that expansion-minded chefs would make their names with haute, fine-dining establishments, then branch out with more casual, more lucrative restaurants: think Thomas Keller opening Bouchon after the French Laundry; Tom Colicchio expanding Craft with Craftbar and 'wichcraft; Le Bernardin's Eric Ripert lending his name to West End Bistro in Washington, D.C.; and Wolfgang Puck opening a gazillion airport kiosks after Spago. In a lot of ways, the offshoots are the food world's equivalent of prêt-à-porter clothes; customers get to experience the brand without paying the couture prices. But a new breed of chefs and restaurateurs is flipping that equation, starting casual and expanding into ever-more-extravagant digs. Led by chefs like Rich Torrisi and Mario Carbone, Roy Choi, and (of course) David Chang, the strategy is working.
"We wanted to start small," says Torrisi Italian Specialties' Mario Carbone. "That was kind of a necessary evil. We weren't going to start out with tasting menus." Though Carbone and his partners have taken the success of Torrisi and turned it into two new projects (the just-opened sandwich shop Parm, and the forthcoming overhaul of Rocco), they will also soon offer a $125 fifteen-course tasting menu at Torrisi, effectively turning the restaurant into a more ambitious version of what it was when it opened.
Empellon's Alex Stupak says his reasons for opening a casual restaurant as his first independent project expresses the same building-block mentality as Carbone. "For me personally, it was due to humility," he says. "I felt like I had to start at the bottom with Mexican cooking and give it a great deal of respect." But in a few months, he'll open Empellon Cocina in the East Village, where he plans to offer ambitious tasting menus and fine-dining-style dishes like a hamachi-stuffed poblano chile with pomegranate-infused apples.
The movement isn't limited to New York. In San Francisco, chef Joshua Skenes and sommelier Mark Bright opened Saison in a bare-bones, back-room space in 2009, growing it from a pop-up to a lauded five-night-a-week restaurant. Now the duo is planning a move to the city's financial district where they hope to offer luxurious, one-seating-a-night dinners. In L.A., Kogi's Roy Choi has gone from taco truck to rice restaurant (Chego) to A-Frame.
Yet David Chang is probably the most famous example of this reverse-engineered expansion, starting with Momofuku Noodle Bar, expanding with the Michelin-starred Ssam Bar (itself originally designed to be an Asian burrito concept), and eventually opening expensive multi-course-driven fine-dining restaurants like Momofuku Ko in New York and the brand-new Momofuku Seiobo in Sydney.
One of the driving forces behind this shift in expansion thinking is money. "If chefs don't have the fortune to start at a four-star level," says Colonie's Brad McDonald, "starting at a low budget and working up to something a little more aspirational, as far as stars, might just be the natural progression for chefs that have trained in four-star restaurants." McDonald, himself a veteran of Per Se and Noma, has found success at the bistrolike Colonie and will soon open his own fine-dining restaurant in Brooklyn.
Of course, the very concept of fine dining is evolving, too. White-tablecloth restaurants are disappearing as counters and chef's tables offering progressive tasting menus proliferate. That movement can probably be traced back to Joël Robuchon, who famously shuttered Restaurant Joël Robuchon in Paris before opening a string of counter-focused L'Atelier concepts around the world. Of course, once that more-casual concept took off, Robuchon himself expanded back into fine dining and opened the super-luxe Joël Robuchon restaurant in Las Vegas, where an eleven-course tasting menu runs $425 per person. And even New York's best chefs need to notch a few more upward expansions before they can get away with that sort of couture pricing.