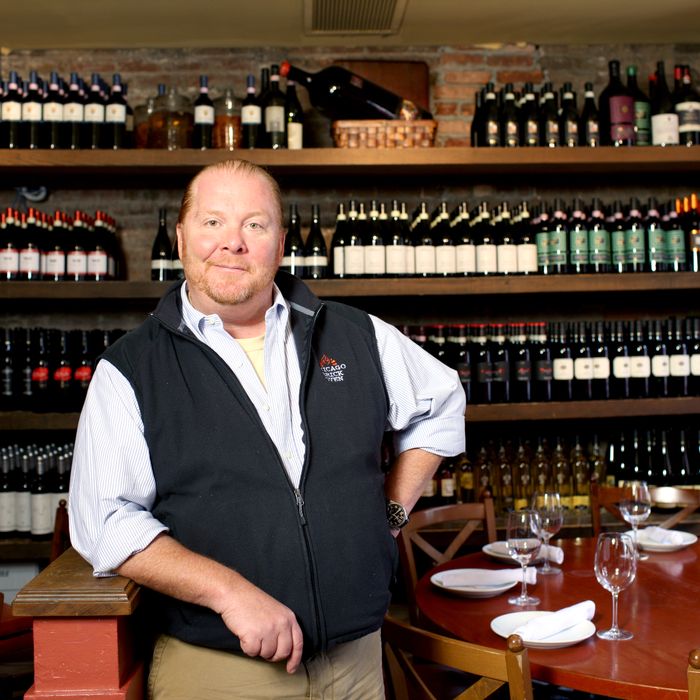 Has Batali really blown it this time?
Photo: Melissa Hom
A Forbes writer has outed Batali for declaring that bankers are as bad as Hitler and Stalin at the Time Magazine Person of the Year panel, quoting "verbatim" Molto's word choice, "So the ways the bankers have kind of toppled the way money is distributed and taken most of it into their hands is as good as Stalin or Hitler and the evil guys … [T]heir evil has had a huge effect on the world." As you might imagine, bankers weren't so happy with this.
In the aftermath of the Forbes piece, enraged bankers have apparently sworn off Babbo and Batali's other suit-drenched establishments for good. The backlash is fast and furious with Bloomberg's Ryan Sutton, for one, taking great delight in the "Bataligate," which even has its own hashtag. Re-tweets include: "Have spent at least 30 nights [at Babbo], I will never again step foot or recommend to a single person." And: "Morgan Stanley Trader messages me on Batali: "Good luck with your $300 white truffle tasting menu among the 99%."
As for Batali, whose wife is Jewish, he isn't exactly eating his words, but he is trying to defuse the issue by saying the Forbes journalist twisted the situation, tweeting, "Mr b deliberately misquoted me for a pr land grab #shameonforbes."
The upside to everything? A Babbo reservation should be an easy score tonight. Just don't wear Brooks Brothers.
Update: Batali has apologized, though he hasn't redacted his opinion that journalist Jeff Bercovici took his words out of context.
Celebrity Chef Mario Batali Says Bankers As Bad As Hitler, Stalin [Forbes]
Related: Despite Bankers' Batali Boycott, Only Esca Has a Table Available; His Other Restaurants Mostly Booked