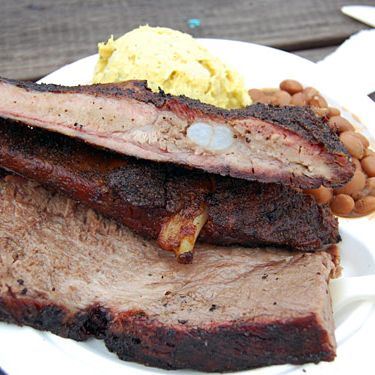 We've been told that it's all about the brisket's crust.
Photo: Daniel Vaughn
The barbecue-literate (and anybody who had a long drool over our urban 'cue slideshow) will recognize the name Aaron Franklin as the pitmaster-come-lately who's wowed the Lone Star State with his brisket. Pat Sharpe, keeper of Texas Monthly's barbecue list, described it in these pages as "dark as midnight with smoke and black pepper, slow cooked over oak to ultimate tenderness." Well, if you haven't made it down to Texas to grab a plate at two-year-old Franklin Barbecue yet, Franklin himself will be in town this Sunday, offering his signature 'cue from 6 p.m. to 9 p.m. at Hill Country. We suggest making reservations for this one.