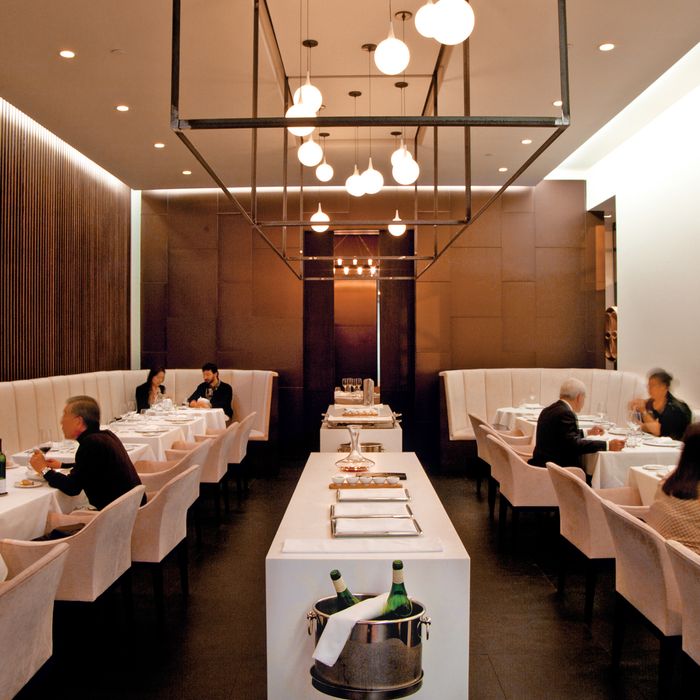 Adam Platt finds the dining room "dreary" at Jung Sik.
Photo: Danny Kim
In this week's New York, Adam Platt turns his palate to Jung Sik, "the first modern haute-Korean restaurant in all of New York City." Think $17 cocktails, tables "covered with crisp white linens," and "painstakingly prepared dinners … served in handcrafted white bowls and giant plates as big as gull wings." At this gourmet "experiment," diners assemble meals from categories including "salad, rice / noodles, seafood, meat, and dessert," with "most of the dishes … served in petite tasting portions," including an amuse of Korean fried chicken. "The best of these nouvelle creations are the ones with roots in classic Korean homestyle cooking," our critic discovers, including "the winter noodle dish kalguksu is threaded with whole clams and sliced garlic, and spiced with a kick of jalapeño," and "the chef's signature version of pork belly ('Five Senses pork') … cut in soft, crunchy-topped squares"; overall the restaurant garners one star.
Meanwhile, the Best Bet this week is a foodstuff that appears to be trending: fondue. In this instance, you should consider getting your melted cheese at the new "fondue room" from the cool kids at Cafe Select, an update on the restaurant's speakeasylike back room.
For something healthier than melted cheese, there's fresh-pressed fruit and vegetable juice on every corner, in case you haven't noticed. Behold a rundown on where to find your antioxidant fix. And should you prefer veggies in solid form, Toloache's Julian Median supplies his recipe for a season-friendly Brussels sprouts salad with pumpkin seeds.