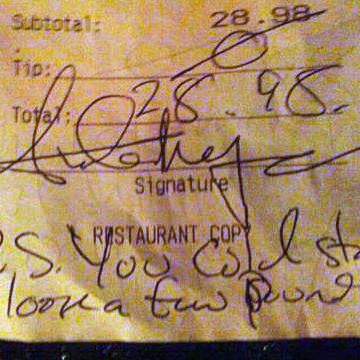 The receipt that started it all.
Photo: Victoria Liss
Remember Victoria Liss, the Seattle waitress who exposed the nasty customer who left zero gratuity and a "tip" that she lose a few pounds? Well, when she publicly called out bargoer Andrew Meyer on Facebook, it turns out she had the wrong man, reports ABC News. It seems Liss (whose is Facebook no longer public) attacked an Andrew Meyer who lives far away in Texas, but the poor guy has nonetheless been getting hate e-mail ever since. Liss herself is in hiding "under the covers" and has issued an apology of sorts: "So sorry to the wrong guy, everyone please just drop it?"
Meanwhile, another Andrew Meyer, in California, reportedly sent Liss a 100 percent tip on the bill, to make up for the less mannerly Andrew Meyers of the world; and the offending Andrew Meyer is still at large. We initially felt sorry for Liss, but now that she's brought innocent people into the drama, not so much. Guess when you work at a place called Bimbo's Cantina, it can go to your head.
Seattle Waitress Exposes Rude Tipper Online, Nabs Wrong Guy [ABC News via NPR]
Earlier: 'Yuppie Scum' Patron Tells Waitress to Lose Weight