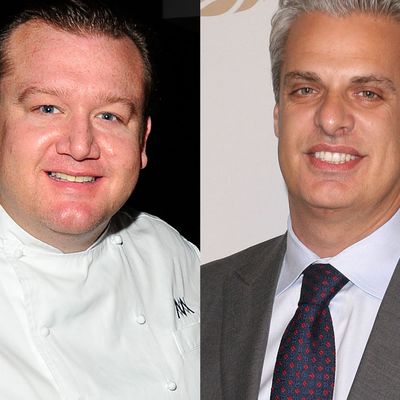 A few new seats at the popular table.
Photo: Patrick McMullan
The last 24 hours have been like the Olympics for foodies, with both Michelin and Zagat dropping their 2012 restaurant ratings. Now that bottles of bubbly have been popped or sorrows have been drowned, it's time to take stock of the winners and losers this time around. Kudos to those who cleaned up, and to the rest: Better luck next year. See our results below.
WINNERS
Brooklyn: The borough's foodie ascension continues, with Chef's Table at Brooklyn Fare earning the BK's first Michelin three-spot (having won its first Michelin two-star rating last year), not to mention the continued one-star ratings of River Cafe, Saul, Dressler, and Peter Luger; the latter took honors on Zagat's best food, popularity, and steakhouse lists as well. Brooklyn restaurants also cleaned up in categories like dim sum (Pacificana), Mexican (Calexico), and barbecue (Fette Sau).
Indian food: Wait, suddenly we have three Michelin-starred Indian places in town? Amazing. Pour one out for Tamarind Tribeca, Junoon, and Tulsi.
Le Bernardin: Having just reopened after its big renovation, the French seafood destination made something of a sweep. Its three Michelin stars were renewed, of course (despite the Mich inspectors purportedly having dined there while the place was shuttered in August), and the restaurant earned the top Zagat scores for overall food, popularity, French food, and seafood.
Michael White: Chef Bianco's Marea earned two Michelin stars and Ai Fiori one; both Ai Fiori and Osteria Morini made it onto Zagat's "top newcomers" list, the former in first place. Marea also received Zagat's top score for Italian food.
LOSERS
Picholine: Losing a Michelin star can't feel good. Chin up, guys.
Tom Colicchio: Riverpark might have been rated a top newcomer by Zagat, but where the heck is Craft on any of these lists? Guess three stars from Sifton don't go too far these days.
Torrisi Italian Specialties: After getting left off this year's list of Bib Gourmand spots, the cultishly beloved little Italian restaurant might have expected to earn itself a Michelin star. Maybe next year.
MIXED EMOTIONS
Andrew Carmellini: Sure, the Dutch made Zagat's "other key arrivals" (cough, afterthought) list, but might the toque be expecting a Michelin star of his own one of these days? Or at least placement on a Zagat "most popular" list?
Danny Meyer: Eleven Madison Park vaulted from one to three stars, and the same day the Times confirmed Meyer's plans to sell the shining star of his empire to chef Daniel Humm and GM Will Guidara. Meanwhile, at Zagat, Eric Ripert's Le Bernardin pulled ahead of two-year reigning Gramercy Tavern for most popular.
David Chang: At that recent Moth panel, the Changster indicated that he thought he might get upgraded from two to three stars at Momofuku Ko. No such luck.
Heartbreak: Despite the name, it should be all sunshine over at Ingrid Roettele's largely critically ignored German restaurant, which earned a Michelin star and placement on Zagat's "top newcomers" list; if only the restaurant hadn't recently closed for "renovations."
Earlier: Michelin Stars Revealed: EMP and Brooklyn Fare Soar Into the Three-Spot
Zagat 2012 Covets Le Bernardin, Ai Fiori, Per Se, and a Couple of Cheapies Too