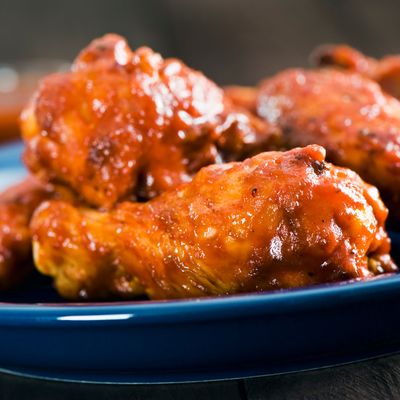 10¢ Wings! 10¢ Wings! 10¢ Wings!
Photo: iStockphoto
If you spent any time listening to advertisements on Long Island's classic rock radio stations during the last twenty years (who hasn't?), you may be all-too-familiar with the hyperventilating leprechaun who frantically extols the virtues of ten-cent wings at Croxley Ales. Or perhaps you've visited Croxley on Avenue B and had a plate of wings there, and/or watched a game or two, and/or downed 40 pints of beer in exchange for a free T-shirt. In any event, per neighborhood rumors and an accompanying SLA filing, it seems as though Croxley will open its first Brooklyn location, deep in the heart of Williamsburg at 63-63 Grand Street, former home of El Tecolote, and before that, Mercat Negre. So, 10-cent wings! That's a total (UFC) game-changer.
Meanwhile, in other neighborhood game-changing news, Brownstoner reports yet another development in the saga of the rumored Whole Foods Williamsburg. Word on the street du jour is that the grocery store chain is still angling to plant its roots on Kent Avenue between North 3rd and Metropolitan, but in the vacant parcel across the street from Monster Island, its previously rumored location.
Tweak to Whole Foods Williamsburg Rumor [Brownstoner]
Earlier: Adiós, El Tecolote
Related: Whole Foods in Williamsburg? Whatevvver