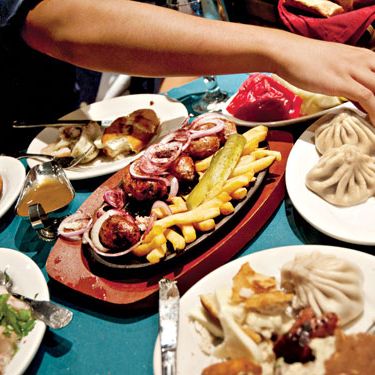 The spread at Mtskheta.
Photo: Danny Kim
"Nothing about Mtskheta's dim, slightly forbidding façade portends the gastronomic delights that lie within," writes the Underground Gourmet in this week's New York. Though the menu is printed in Russian, the helpful staff is happy to guide you through the basics of Georgian food. "Walnut sauce is to the cuisine as red sauce is to Italian-American"; you might find it massaged into a delectable eggplant roulade, puréed into a garlicky spinach dip, and blanketing a toothsome platter of fried chicken." Breads are a must, especially "mchadi, or corn bread, which should be ordered with some slabs of squeaky mild cheese that melt when you stuff them inside." The restaurant's two lambs soup should satisfy this winter, and "no Georgian feast is complete without khinkali, the neatly pleated oversize dumplings filled with seasoned ground beef and broth," eaten in soup-dumpling-like fashion by first slurping out the broth. The restaurant earns three stars.
Meanwhile, Rob Patronite and Robin Raisfeld have the goods on Forcella, the Neapolitan pizzeria that just opened on the Bowery. The specialty is the montanara, or deep-fried pie. And add Left Bank to your eating itinerary if you like a challenge: The West Village restaurant serves the "Italian baked-pasta showstopper known as a timballo," and the giant thing is built to share. And for nights at home, consider this recipe for cauliflower tabouleh from Boulud Sud chef Aaron Chambers.