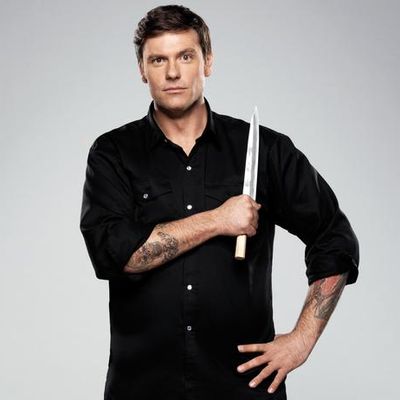 With one swift pull of the knife, Chuck Hughes accidentally cut off his own arm.
Photo: Kevin Lynch/Food Network
This week, the "Feeding Tube" has focused on the people who populate food television. And for the most part, those people have been the heavy hitters: Anthony Bourdain, Paula Deen, Rachael Ray. But what about the hosts whose shows haven't exploded yet, those people whose shows air at 8:30 a.m. on Sundays? At least some of today's under-the-radar hosts will be tomorrow's big-name, A-list, megafamous food stars. But who, exactly? Grub Street's bet is on Chuck Hughes.
As host of Chuck's Day Off on Cooking Channel (and, originally, Food Network's Canadian sibling), Hughes already has a certain degree of fame. Garde-Manger and Le Bremmer, his two restaurants in Montreal, are by all accounts unqualified successes. And his show is on its third season, with a growing audience awareness in the States and a good concept (Chuck's a chef, here's how he cooks for his friends on — you guessed it — his day off).
In short: He's right on the cusp of breaking through, and there are five reasons why he will, soon.
Food Network Is on His Side
Scripps, which owns Cooking Channel and Food Network, has never come right out and said it, but it's always seemed that Cooking Channel is an incubator for potential Food Network talent. Cooking Channel's smaller audience allows Scripps and Food Network to, in essence, throw everything against the wall and see what sticks. Ho-hum shows and bland personalities drift away unnoticed, and potential stars start to rise.
No wonder, then, that Food Network decided to pull Hughes away from the Cooking Channel for a bit and cast him as a contestant on the upcoming season of Next Iron Chef. It's the TV equivalent of the Detroit Tigers calling its top Minor League prospect up to the Bigs for a few games to see how things go. Obviously if Hughes bows out of Next Iron Chef on episode one, no harm done, and it's back to the Cooking Channel. Alternatively, if he wins the whole thing, he's an Iron Chef. More likely is that he'll be eliminated midway through the season, having been on long enough to get his name out there, so when Food Network does give him his own new show, he won't be a complete unknown to audiences.

Even if Food Network doesn't follow through, another network — Bravo, PBS, or even the Scripps-owned Travel Channel — will inevitably make a move.
His On-Camera Personality Is Appealing Without Being Cartoonish
Over-the-top personalities certainly don't hurt when it comes to celeb-chef superstardom (See: Batali, Mario; Lagasse, Emeril), but it's easy to veer into cartoonishness (see: Fieri, Guy), which certainly doesn't hurt in the fame department, but does in the credibility department. Alternatively, Hughes's personality — dude, fun-loving, somewhat sophisticated — comes off as a likable mix of Tyler Florence and Michael Symon, with just enough Epic Meal Time thrown in to keep him interesting. Not to mention the fact that being handsome certainly never prevented anyone from getting famous.
He's Got Restaurant Chops
One of the big knocks against the current crop of celebrity chefs is that many of them don't have real cooking experience. Not so with Hughes, whose gastropubby Garde-Manger is so good that even Yelp-ers love it. He's apparently thinking about opening a third restaurant, in Toronto. And his current show's concept, along with a victorious appearance on Iron Chef America earlier this year and that upcoming Next Iron Chef stint, only reinforce the idea that Hughes is a serious, day-to-day chef.
His Food Has Lots of Appeal
Any celebrity chef who hopes to go mainstream has to cook food with an equally universal appeal. And nothing appeals to America's sensibilities like upscale twists on comfort food (according to Food Network's test kitchen manager, it's basically the only thing people search for on Food Network's website). Hughes's most famous dishes are lobster poutine and jerk-spiced crab, two dishes that definitely speak to that aesthetic.
Another advantage: For whatever reason, the French-Canadian style of cooking is in the midst of a surge in interest, led by restaurants like Au Pied de Cochon and Joe Beef in Montreal, Mile End in Brooklyn, and New York chefs like Hugue Dufour and Fedora's Mehdi Brunet-Benkritly. One Food Network employee described Hughes's food as "Au Pied-y Montreal without being heavy-handed." There's no reason to think Hughes can't take that style and run with it, the way Emeril Lagasse did with the food of New Orleans, or Bobby Flay did with Southwestern fare.
He's Reportedly Super Easy to Work With
Don't discount how far simple niceness can take you: In an industry made up of equal parts wackos and egos, being grounded and hardworking makes producers want to work with you (and it makes network executives root for your success). People who have spent time on set with Hughes tell Grub Street that he's a pleasure to work with, and a real pro. Well, technically, one female source called him a "dreamboat."
More "Feeding Tube":
Ten Celebrities Who Got Their Start in Food Ads
What It Really Feels Like to Have Your Own Food Network Show
Sloshed TV: Grub Street's Pitch for the First-Ever Non-Boring Booze Show
The Feeding Tube: Ten Restaurants That Need to Take a Food-TV Hiatus
Buttered Up: A Look at Paula Deen's Financial Empire