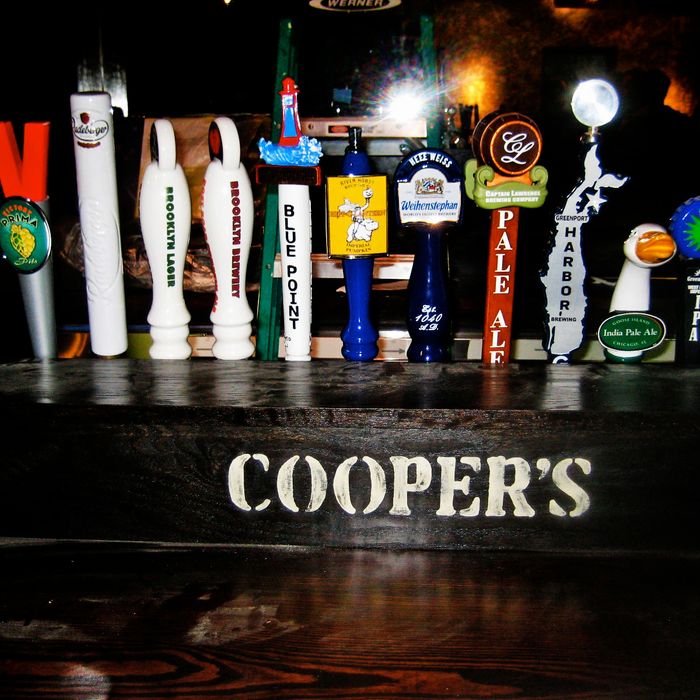 Beer taps at Cooper's Craft and Kitchen.
Photo: Danielle Walsh
Finally, the black plywood has been taken off of Cooper's Craft and Kitchen, a beer-focused restaurant from the team behind Slainte and Dempsey's that was originally slated to open in July. It wasn't completely ready when we stopped by, but it's clear that there are no remnants of the Barbie acid-trip feel of the former Kurve/Rhong-Tiam. The Second Avenue space (named after Cooper Union founder Peter Cooper) now has a rustic Irish Pub vibe, outfitted with distressed wood-panel flooring, a beer menu scrawled on chalkboards, and three barrels lodged over the bar. But don't forget: This is not a bar!
Because of the recent neighborhood battle with now-shuttered bar Sin-Sin on that same corner of East 5th Street and Second Avenue, CB3 has mandated that Cooper's Craft and Kitchen keeps its focus on the "Kitchen" part. Although owner Tom O'Byrne cringes at the word "gastropub," the restaurant will serve a more sophisticated menu than his other two bars, including lobster macaroni and cheese, Pat LaFrieda burgers, Scotch eggs, and a signature meatloaf sandwich. The beer is definitely the star, however; the restaurant boasts a selection of 25 taps and 40 bottles. Also: a rotating selection of house-infused liquors including a starting lineup of marshmallow vodka, habanero tequila, and pear gin. Just don't expect to stumble out at 4 a.m. — Cooper's will close at 1 a.m. Sunday through Wednesday, and 2 a.m. Thursday through Saturday. If you want to keep the party going, Dempsey's is just two blocks down the street.
Cooper's Craft and Kitchen, 87 Second Ave., nr. 5th St.