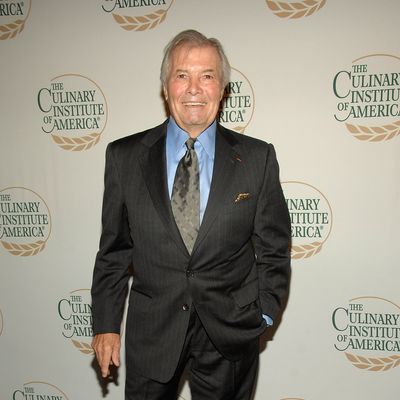 Pépin, looking dapper.
Photo: Ben Gabbe/Getty
Jacques Pépin — food icon, cookbook author, dean at the French Culinary Institute, and one of the people who helped invent the very concept of "TV chef" — sat down at this past weekend's New York Wine & Food Festival to speak with Times reporter Jeff Gordinier. Through the talk, the smiling legend threw cold water on one of molecular gastronomy's primary techniques, told tales of his friend and sometimes co-host Julia Child, and horrified oenophiles with his system for using up leftover wine.
1. He combines red and white wine. Like, in the same glass: "If it's leftover, we put it together … I have a friend who's a sommelier; he goes berserk. But I'm very miserly in the kitchen. I lived during the war. It's only wine."
2. He thinks molecular gastronomy has its place: "Molecular gastronomy is like Jean-Paul Gaultier [clothes] coming down the runway … you ask yourself 'who would wear that?' But eventually it trickles down to [become] prêt-a-porter."
3. But sous-vide cooking doesn't Impress him: From his time at working at Howard Johnson's in the sixties: "I was already doing sous-vide cooking. We called it cryogenically frozen. It's nothing new."
4. Pépin's "most pivotal" kitchen experience was at the very constrictive Plaza Athénée in Paris: "The goal [of the kitchen staff] was to conform to the style of the house," to make the famous dishes there. "We were 45 chefs in the kitchen … and the idea was to do the lobster soufflé so that no one would have known which one of us had done it. Nowadays, young chefs want to sign their dishes. It is a totally different approach to food."
5. He gets treated like royalty at restaurants: He says he eats at Jean Georges and Le Cirque because "they don't make me pay and give me the best."
6. Even he admits the old kitchen-apprentice model had advantages over culinary school: "If you asked the chef why, it was 'because I just told you to' … You were called 'you,' no name. You learned through a type of osmosis, repeating … Now we cater to the people, we show, we explain, over and over again, and what they can do in six months, I am amazed. But, even at age 13, my hands were much faster [than culinary students'] because of that repetition."
7. Julia Child was fun on set: According to Pépin, Child often changed the menu the day of filming, ran way overtime while taping, and hid beer on the set. "When I see the show I'm amazed how smooth it is."