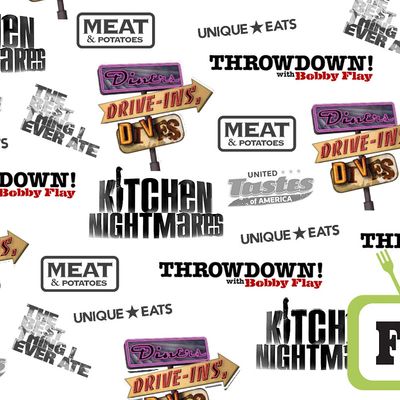 That's a lot of shows that need to feature restaurants!
It should come as little surprise to learn that getting your restaurant featured on Food Network, the Travel Channel, or any of the other endless networks that feature food programming practically guarantees a surge in new business. But is that always a good thing? Grub Street talked to the owners of some featured restaurants to find out what goes down after the TV crew moves on, and the crowds roll in.
Lynn Archer, whose Rockland, Maine, restaurant Brass Compass was on Throwdown in 2009, says her restaurant was already "very solid with locals" before Bobby Flay paid her a visit. But adjusting to the new level of fame was no picnic: "After the show aired, you couldn't get a seat. I wasn't prepared," she said.
Teddy Folkman, of Granville Moore's in Washington, D.C.: "We call it the Throwdown hangover." Folkman, who both beat Flay on the 2008 mussels-and-fries show and appeared as a contestant on The Next Food Network Star, estimated that his business "instantly went up 10 to 15 percent," with a bump in business anytime there's a repeat.
If there were ever any doubt about the selling power of Guy Fieri, it's erased when you talk to the restaurants featured on Diners, Drive-ins, and Dives. Fred Guerrero of the Oinkster in Eagle Rock, California, appeared on the show in 2010. "It was crazy," Guerrero said. "As soon as the episode was over, the phone started ringing off the hook. The next morning, there were people waiting like an hour before we opened, and a line around the building."
How much can a single TV appearance boost business for an owner? Guerrero and chef Nongkran Daks of Chantilly, Virginia's Thai Basil both saw their business double. "They told us, maybe you'll see a 40 percent increase in sales or something," said Guerrero, "but it was upwards of a 100 percent increase."
But what happens when your business can't handle the crush of customers?
That's what happened to Matt Chernus, co-creator of L.A.'s Grill 'em All truck, which won the first season of Food Network's Great Food Truck Race. "After the first episode aired, there were long lines and every week they got longer," he said. By the time his victory episode had aired, a night in the truck could be pandemonium. "It got more nuts," Chernus said. "It was panic, definitely. It was blind fear. [The lines] were like a couple hundred people deep, and honestly, for a food truck, you can't feed that many people … it was just like, Oh man, we're going to be in the shit. We ran out of food every shift back then."
"When the episode was about to air, I Googled other restaurants that had appeared on [the show] and they were calling it 'The Curse of Diners, Drive-Ins, and Dives,' because it just breaks some people," Guerrero said.
As a Times story noted earlier this year, the TV-watching hordes can also alienate regulars. "A lot of our regulars are family here. We have their birthday parties, we go to their birthday parties, it's a great sense of community that extends outside of the restaurant," Folkman said. "Now we're one of those destination places that people come to from all around. So [after the show], at first some of the regulars realized that they couldn't come to their favorite place on a Friday or Saturday anymore."
Too many customers and sold-out weekend seatings are problems lots of struggling restaurateurs would love to have. One problem they might not want: being portrayed as a mess on national TV. It's a recurring theme for people whose restaurants have been the subjects of Gordon Ramsay's Kitchen Nightmares.
Darryl Cortello of Zeke's in Metairie, Louisiana, said that actually watching his episode of Nightmares in 2010 was the most difficult part of appearing on the show. "They sort of made my wife and I out to be real villains," he said. "People have actually come in to meet us and say, 'Aw, you're so much better in person. On TV, you were a real ass.'" Cortello adds, "The show really gets crafty with editing."
Colleen Gaertner, co-owner of Classic American Restaurant in West Babylon, New York, said the taping of her 2011 Nightmares episode was "very overwhelming," adding that her teary episode was "hard to watch, because it's your business and it's very personal and, you know, you're exposing yourself."
But Cortello and Gaertner would both go through the whole ordeal all over again. "Had they not decided to use us on their show, we probably would have had to shut the doors," Gaertner said.
More "Feeding Tube":
The Feeding Tube: Ten Restaurants That Need to Take a Food-TV Hiatus
Sloshed TV: Grub Street's Pitch for the First-Ever Non-Boring Booze Show
Ten Important Moments in Food-TV Recipe History
Buttered Up: A Look at Paula Deen's Financial Empire
The Feeding Tube: Five Cooking-Competition Bad Guys Tell Us Why They're Just Misunderstood
How Food Television Changed the Way We Eat
Eleven Real Secrets Behind TV Food Styling