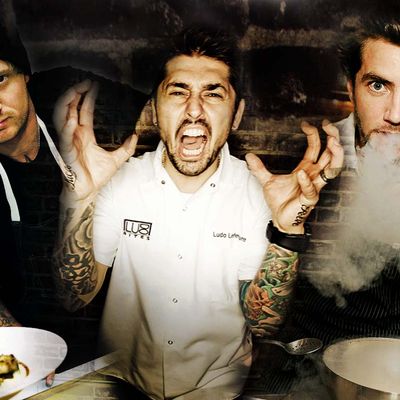 Save the clean cut for your mise en place.
Photo: Dimitrios Kambouris/WireImage, Wesley Wong, Charley Gallay/Getty Images for Mark Liddell
Every reality show needs its bad guy, and reality cooking competitions are no different. Directors, producers, and editors work tirelessly to cut together footage that they hope will make you feel these players' chilling intensity, allowing them to piss you off, make you blush, and come back begging for more the next week. Over the years, shows like Top Chef have had their fair share of provocateurs, but are any of these chefs really that bad? Sure, the chefs on this list have snake tattoos, volatile tempers, and terribly healthy egos, but they all tell Grub Street that they have feelings, too.
The Chef: Marcel Vigneron
The Show: Top Chef
The TV Role: Punk-ass prodigy
"I am so much nicer, sweeter, and more sensitive in real life," the molecular gastronomist with the gravity-defying hair assured Grub Street. "Anyone who has met me in person knows this to be true and that I got a bad rap on Top Chef." Marcel, who certainly threw his fair share of hissy fits on the show, says editing is the culprit: "If your cast type is the 'bad boy,' which I always get, they would never show you assisting someone else or being nice, no matter how frequent it may have been, because that wouldn't suit the persona they are trying to portray." He adds, "I'm truly a considerate, cordial person. Ask anyone."
The Chef: Ludo Lefebvre
The Show: Top Chef Masters
The TV Role: Angry French rebel
"You picked the right guy for a story about misunderstood 'bad boys,'" says Ludo Lefebvre, from his home in California, where the chef contestant wasn't yelling or shouting, but was instead making carrot puree for his 6-month-old twins and vacuuming the house for the fifth time this week. So he's not as hot-blooded as he was shown to be on the second season of TCM? "Okay, yes, I'm intense, and I'm picky, and a perfectionist, but that's just Ludo. When I'm not at the restaurant or on TV, I really am a lot more relaxed." He adds that he's not always "a crazy asshole French guy," he just cares about what he does. "I care so deeply about my job, and if you make ten mistakes, I'm going to need to yell at you. I don't scream for fun, I scream when you do a bad job. But I'm actually very mellow. I have a real heart."
The Chef: Michael Voltaggio
The Show: Top Chef
The TV Role: Indestructible, unstoppable, impermeable
By anyone's account, even his own, Michael Voltaggio is the definition of a relentless competitor. But there's something he wants us to know: that his brother, Bryan — one of Top Chef's most memorable gentlemen and mature adults — is a bigger jerk. "Really, I'm probably nicer between the two of us. I'm very sensitive. Bryan is actually meaner." Conveniently sitting next to him when he spoke with Grub Street, Bryan rolls his eyes and shrugs, "And clearly Michael is the bigger liar." One quote Michael really wants to clarify on the record? When he said that fellow contestant "Kevin [Gillespie*]'s food is what I make on my day off." Michael says that sentence was cut in half during editing, and originally sounded a lot nicer. Feel better now?
The Chef: Jehangir Mehta
The Show: Next Iron Chef
The TV Role: Sore loser
Jehangir Mehta, who might not have a dirty mouth or dragon tats (but does have a good lawyer), was one of the Next Iron Chef's season two villains, an image he wasn't entirely comfortable with. "They do twist things around … they gave a little bit of an evil twist to me," he tells Grub with a sad shrug. "But that's how the game runs, you can't gripe about it." Was a little reputation-smearing worth it? "Oh yes! It has definitely has been great for my career."
The Chef: Leah Cohen
The Show: Top Chef
The TV Role: Diva with dark side
Cohen was no saint on Top Chef season five, but she says she was misunderstood in a different way: She's actually more devilish in real life. "I'm tougher in the kitchen than I came across on the show." Cohen — who fiercely played the game and one competitor's heart strings — confesses the cameras intimidated her, taming her fearless ways. "I don't think my real personality came across. God, they made me look like such a whiny bitch!"
*This posted has been corrected to show which contestant Voltaggio was referring to.
More "Feeding Tube":
Buttered Up: A Look at Paula Deen's Financial Empire
Ten Important Moments in Food-TV Recipe History
Buttered Up: A Look at Paula Deen's Financial Empire
Anthony Bourdain Tells Grub Street About the Food Shows He Actually Likes
Jonah Hill Totally Dissed Paula Deen on TV
How Food Television Changed the Way We Eat
Eleven Real Secrets Behind TV Food Styling
How Many Cooks (and Fridges, and Researchers) Does It Take to Run Food Network Kitchens?